We're all relishing the longer days, flowers bursting into bloom and a bit more warmth and sun than in past months. Spring is officially here and why not celebrate the season with your kiddos and escape to Port Townsend for Spring Break. School's out for the week and it's a perfect time for some family bonding.
Come for a few days or a week. Here are five things that will keep your family hopping.
#1 Bring your bikes and cycle on the Larry Scott Memorial Trail

The Larry Scott Memorial Trail begins in the Port of Port Townsend's Boat Haven, with a wide, nicely groomed gravel trail, hugging the shoreline of Port Townsend Bay and following an abandoned rail corridor through forests, fields and farms for 7.5 miles. The first mile is easy for young ones as it's mostly flat and perfect for strollers, trikes or bikes with training wheels. As it reaches the paper mill, it gains in elevation and your high-energy older kids will be competing to see who can make it to the top of the hill first. Each mile is well-marked, so you can gauge how far you've gone and turn around if anyone gets tired (it's mostly downhill back!). The full trail is 15 miles roundtrip. For a map, go to www.ptguide.com/maps-a-directions/larry-scott-memorial-trail
Port Townsend is not only the trailhead for the Larry Scott Memorial Trail, but it's also the starting point for the Olympic Discovery Trail, which spans across the peninsula and ends roughly 130 miles later in La Push at the Pacific Ocean. For detailed information about each of the segments, go to www.olympicdiscoverytrail.org.
#2 Explore the bunkers at Fort Worden

Fort Worden was an active US Army base from 1902 to 1953, built to defend Puget Sound to thwart any invasion attempts from the sea. The initial armaments consisted of gun emplacements and batteries, plus a variety of guns and mortars.
Today, the extensive system of large, abandoned bunkers are open to the public—a special joy for kids who love to explore and hear their gleeful screams echo throughout the cavernous halls.
Fort Worden is a 434-acres state park with trails winding throughout the forests, along the shoreline and boasting magnificent views of the mountains, sea and former military complex. The historic buildings located in the core 92-acre campus are used for accommodations, eateries, meeting spaces with a variety of partners who call Fort Worden home and offer life-long learning opportunities.
This is a fascinating, beautiful area to spend at least a day or several, enjoying your family. www.fortworden.org
#3 Check out the kid-friendly museums, both at Fort Worden and in town
If your kiddos were enthralled with the bunkers, take them to the Puget Sound Coast Artillery Museum (www.coastartillery.org) at Fort Worden to learn more about the Harbor Defense System of the early 1900s, or go to the Commanding Officer's Quarters, on the parade grounds where "An Officer and A Gentleman" was filmed. Down at the beach, visit the Port Townsend Marine Science Center (www.ptmsc.org) and "Learn from Orcas—the Story of Hope" in their Orca Exhibit or discover the creatures that live in the sea at the Marine Exhibit up close and personal in their touch tanks. Be sure to check out the hours and days these museums are open in the spring. Some are only open on weekends.
In downtown Port Townsend, your kids will love the creepy jail in the Jefferson Museum of Art and History (www.jchsmuseum.org) and be sure to watch their movie, "We Came with Dreams."
#4 Hike the trails that wind throughout the city or walk on the beaches
Port Townsend is laced with trails that flow through town, connecting the Larry Scott Trail to the Fort Worden trails and beyond. One of the favorite trail systems for the locals is fondly dubbed Cappy's Trails with ribbons of trails and abandoned roads frequented by hikers, dog-walkers, mountain bikers and equestrians in the heart of the Quimper Wildlife Corridor. It's comprised of 264 acres of wetlands and forests and provides habitat for over 100 species of native plants.
Walk the beach from Fort Worden to Point Hudson in downtown Port Townsend. Check out the rocks, fly a kite or build a sand castle, but be sure to check the tides first. It's only safe at mid- to low-tide!
Download a hiking and cycling trail map for Port Townsend, or pick up the map at the Port Townsend Visitor Information Center at 2409 Jefferson Street.
#5 Shop and eat downtown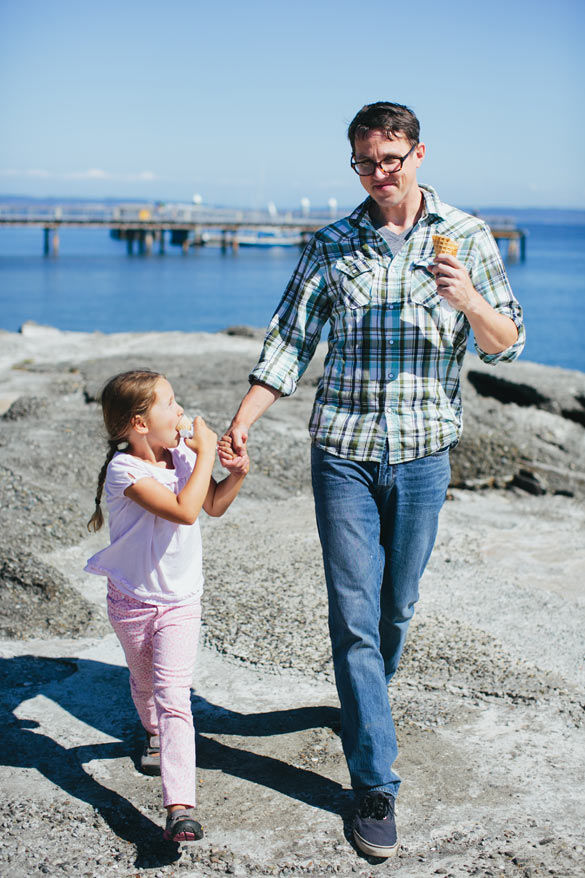 After all that exercise, fresh air and massive learning, it's time for a treat. Head downtown for delicious eateries, ice cream made from scratch, homemade baked goods in delectable bakeries, hand-crafted chocolates from awesome chocolatiers, a book store with stories to entertain every age, a ship's chandlery with cool mariner stuff for kids, and several toy stores that will leave your wallet emptier than when you walked in. For a list of merchants, go to www.ptmainstreet.org.
Book your accommodations at www.EnjoyPT.com/Stay. We can't wait to welcome you and your family to Port Townsend for Spring Break!