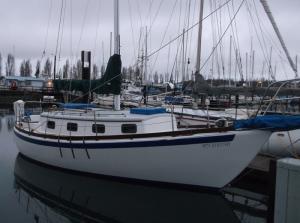 We live in "the city of dreams" . . . so what's your dream boat? What would it take to start on your dream? These ponderings swirl around in our mind and sometimes never land do they?
Follow the journey of one man's dream as it started like this: "It didn't matter to me that the hull was covered in blackberries, that the deck beams were rotten, and that it had a small bush growing in the place where the lead ballast should be. I felt like I had just discovered a beautiful woman in raggedy clothes that everyone had overlooked. Truly a diamond in the rough."
January 22, 2014
Wooden Boat Wednesday – David Moe: Building a Dream (Or How To Save a Marriage)
12n – Free event
Today David Moe says, "Very few people would have undertaken this project, but I knew what I wanted: a double ended sailboat 28 feet long with a custom cabin" . It took seven years to build his dream boat from a neglected 28 foot fiberglass hull built by Skookum Marine in PT. And, with the help, shared knowledge and moral support of generous and kind people in the maritime trade, he was able to achieve his dream. He built a custom sailboat from a bare hull. The cabin and deck are made of wood with fiberglass overlay. He built the cabin sides, deck beams, and cabin top beams at Cape George Marine Works. Dave recounts, " I learned much about boats and much more about myself. You have to believe in your dream and never give up."
David will share his journey through humorous tales of his many challenges and trials. You'll see and hear about his stages of completion and how he kept up his enthusiasm for the project. His story will inspire anyone with a dream to build a boat.
Looking back, Dave's first sailboat was a 26 foot Thunderbird that he often sailed to Victoria, BC and the San Juan Island. He started an El Toro fleet in Port Angeles. He helped Herman Husen build a Benfort designed 60 foot ferro cement ketch which Herman used in a charter business in the San Juan Island. Dave and his wife Renee moved to Port Townsend in 2004. One day as he looked thru the want ads in The Leader, he found a boat auction that lead him to purchase a derelict hull in the Boatyard of Broken Dreams. It is true that boat yards could be called Dream Yards. Boats represent freedom and just getting away from the burdens of land work. But some boats never make it out of the boat yard.
Do you have a dream? Come hear David's odyssey in the world of dream boatbuilding.
The event is Free, but reservations are required. Sign up early to reserve a spot! chandlery@nwmaritime.org or call 360.385.3628 ext 101