As the holiday season winds down, celebrate the end of 2015 and the promise of 2016 at festivities around Port Townsend on New Year's Eve and New Year's Day.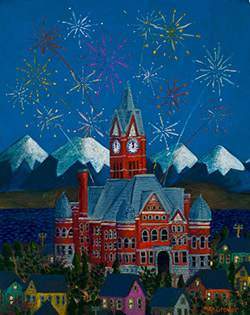 The Jefferson County Historical Society presents the 9th Annual First Night, Port Townsend's alcohol-free, family-friendly New Year's Eve community celebration focusing on arts and heritage. All activities take place in and around Port Townsend's historic City Hall between 6 and 9 pm on December 31.
There will be musical performances, a hands-on history game, film shorts presented by the Port Townsend Film Institute, children's games conducted by the Port Townsend High School Interact Club, storytelling and theatrical presentations by Key City Public Theatre, call dancing in the Pope Marine Building, a hands-on art project at the Jefferson Community School, music at Elevated Ice Cream and DJ dancing at the Boiler Room, plus a display of live birds by Discovery Bay Wild Bird Rescue.
At 9 pm (midnight in New York) Port Townsend will get a head start on the rest of the West Coast and usher in 2016 by raising of an illuminated anchor created by sculptor Thaddeus Jurczynski followed by an explosion of brilliant fireworks provided by Dr. David Chuljian launched from Memorial Field.
Admission is by donation, suggested $5 per person or $10 per family. Proceeds benefit Historical Society programs. For a schedule of events, go to http://www.jchsmuseum.org/Programs/FirstNight.html.
Admission passes are now available at the Jefferson Museum of Art & History in historic city hall, 540 Water Street. All pass holders receive a raffle ticket for gift certificates from the Museum Shop and passes to Key City Public Theatre.
Keep the party going and head to the Fort Worden Commons from 9:30 pm to 12:30 am to ring in the New Year by dancing the night away with local favorites Locust Street Taxi.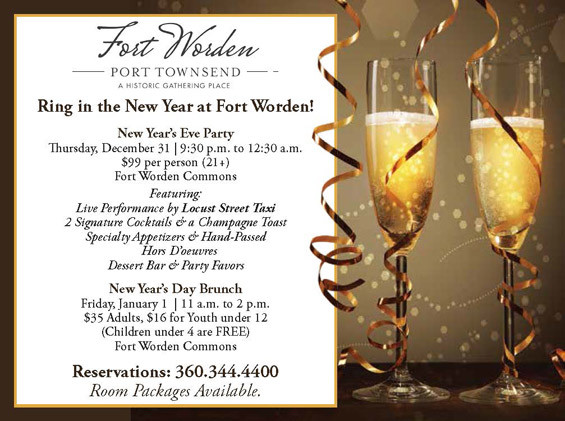 The Commons will be decked out as an intimate night club, complete with a new large wooden dance floor to accommodate your twist and groove.
The menu features fresh, local produce and artisan items including salmon cakes, vegetable spring rolls, shrimp and pork wontons, oysters on the half shell, artisan cheeses, scallop ceviche, bacon and prosciutto wrapped vegetables, Swedish meatballs, vegetable shooters, fruit kabobs, and more!
Admission is $99 per person (21+) and includes the specialty appetizers and hand-passed hors d'oeuvres just mentioned, plus two signature cocktails, a dessert bar and party favors, plus a champagne toast at midnight!
Room Packages are also available so you do not have to drive home. Please call 360.344.4400, ext. 304 to guarantee a reservation to the Party or for help with accommodations.
And consider enjoying a scrumptious New Year's Day Brunch on January 1 from 11 am to 2 pm in the Commons. $35 Adults, $16 for Youth under 12 (Children under 4 are FREE). Reservations are recommended.
Now that the New Year is off to a roaring start this month, plan to attend the 12th Annual Strange Brewfest, January 29-30, boasting wildly inventive, palate-challenging craft brews featuring over 50 breweries and cideries, along with more than 80 mind-bending potations.
Strange Brewfest 12, is the Mount Olympus of beer festivals, as the 12th version of Port Townsend's ode to Northwest brewers and their imaginations lets you party like Greek Gods and Goddesses!
This iconic festival is an indoor-outdoor event based in downtown Port Townsend at the American Legion Hall in our National Historic Landmark District.
Taste is not the only sense that Strange Brewfest 12 will tempt. Be dazzled by the sights and sounds of the weekend with a continuous lineup of rockin' music. Indulge in the carnival-like atmosphere that this festival is known for.
Admission to Strange Brewfest 12 is $30/person which gives you a souvenir tasting glass, four tasting tokens and a wristband for both days. Additional tasting tokens are $1.50 each. This is a 21+ event. Make reservations for accommodations soon as Port Townsend gets sold out quickly for this event!
For event details visit www.strangebrewfestpt.com.
We look forward to welcoming you to Port Townsend in 2016! Happy New Year!