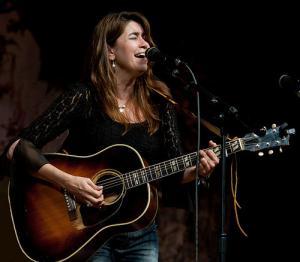 June 27 through June 29, 2013 at Fort Worden State Park, Centrum presents Voice Works: A Week of Singing. The public capstone to a full week of singing and slide guitar workshops, Voice Works shows include both concerts and dances. Mainstage shows take place at McCurdy Pavilion, a World War I-era balloon hangar converted into a 1,200-seat performance hall. Dances and smaller performances take place in Fort Worden's dance halls and in the Joseph F. Wheeler Theater.
Headlining Voice Works this year are the Birmingham Sunlights, who will be performing their special brand of four-part a cappella gospel. The group developed their style within the Church of Christ, where no musical instruments are permitted. Three brothers—James, Barry, and Steve Taylor—founded the group and were joined by Reginald Speights and, later, Bill Graves, in performing well-known hymns as well as original pieces. Besides appearing at numerous festivals across the nation, the Sunlights have toured in Africa and performed extensively in Europe, the Caribbean and Australia.
Voice Works's performers also include bluegrass mandolinist Caleb Klauder, guitarist Reeb Willms, Linda and David Lay, Cajun musician Yvette Landry, singer/songwriters Pharis and Jason Romero, vocalist and dobro player Laurel Bliss, banjo player Riley Baugus, singer/songwriter Kristin Andreassen, jazz singer Meredith Axelrod, guitarist John Lilly, and blues singer and fiddler Suzy Thompson.
"The use of one's voice to convey meaning is about as elemental as it gets," said Centrum executive director Rob Birman. "Centrum's Voice Works performances explore the wide variety of applications of singing and songwriting and I think audiences will be impressed with the profundity and sheer variety that stems from such a simple starting point. In a sense, Centrum's summer builds with each week, and it seems fitting that it all begins with Voice Works. I encourage audiences to see and hear what our artists have to offer, especially at our opening event showcasing women singer/songwriters on Thursday, June 27th at 7:30 p.m. It's going to be a highlight of the entire summer season."
To Order Tickets visit www.centrum.org; call Centrum at 800.746.1982 or visit the Centrum office at Fort Worden State Park from noon until 4 pm, Monday through Friday. Tickets are also available at the box office beginning one hour before each show.
VOICE WORKS
Thursday, July 27
Women's Singer/Songwriter Showcase
Wheeler Theater
7:30 pm; $15
Pharis Romero
Yvette Landry
Kristin Andreassen
Suzy Thompson
Nancy Thorwardson
…and more!
Friday, June 28
Concerts for Kids
Fort Worden Chapel
11 am to noon; $5 for adults/kids free
Kristin Andreassen
Free Fridays at the Fort
Nora Porter Commons
Noon to 1 pm; free
Voice Works Showcase
Honky Tonk Dance and Polka Dot Contest
USO Building
7:30 pm; $10
Voice Works Faculty All-Star Band
(Please note: tickets only available at the door)
Saturday, June 29
Roots and Branches of American Singing, from the Secular to the Sacred
McCurdy Pavilion
7:30 pm; $20
Caleb Klauder and Reeb Wilms
Laurel Bliss
Yvette Landry
Riley Baugus
John Lilly
Jason and Pharis Romero
Meredith Axelrod
The Birmingham Sunlights
…and more!