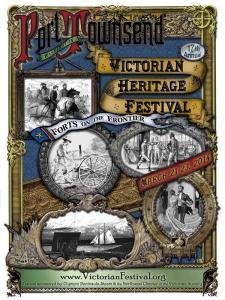 Live the Victorian life for a weekend in historic Port Townsend, March 21-23, 2014, and enjoy everything the Victorian Festival has to offer.
When thinking of Port Townsend's early days, images of shipping and lumber, rough streets and genteel houses spring to mind, but the U.S. Army established Fort Townsend in 1856. The 18th Annual Victorian Festival looks at how the military shaped culture during those volatile decades of expansion, civil war, and economic tumult.
Here's a quick glimpse of activities to participate in over the weekend, but for more details and to purchase your ticket, go to www.VictorianFestival.org.
Start with a Victorian Pub Crawl on Friday night, featuring sea shanties, saloons, "shanghai tunnels," and fine vintage cocktails throughout a staggering selection of Port Townsends (in)famous watering holes.
Saturday is filled with fascinating events and presentations you won't want to miss. Manliness in the Morning begins at 11:30 am, a very civilized hour for any gentleman. Learn about Victorian Bicycles or how the Military Influenced Women's Fashions, as well as Steamboat Rides departing from Point Hudson Marina, all at 12:30 pm. At 2:30 pm, enjoy a Fencing Demonstration or discover the secrets behind Victorian Corsets. A perennial favorite of the festival is the Victorian Fashion Show at 4 pm and the Victorian Ball from 7-11 pm. Many more presentations and activities are offered throughout the weekend, so be sure to check out the full schedule at www.VictorianFestival.org.
Sunday morning, take the Insiders' Historic Building Tour and see for yourself the incredible, authentic buildings of this Victorian Seaport. Join Port Townsend's Main Street Program [link to Main St page] for the Tour—your ticket inside four of Port Townsend's cornerstones. Tour these splendid edifices with docents who can offer the inside scoop on when and why, who and how.
It's a weekend of fun and history, you won't want to miss.