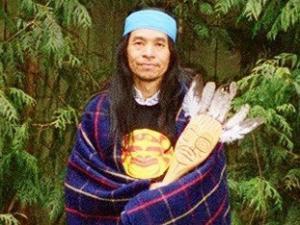 You are invited to join the Mythsinger Foundation and host Brian Rohr this April Fool's Day for the 5th Annual Trickster Tales: A Night of Storytelling – engaging in one of the oldest acts known to humans, that of the oral tradition, sitting together as a community and listening to the old myths, the old stories.
The evening is a benefit for the Boiler Room, and will feature master storytellers: Johnny Moses from the Tulalip Tribe, renowned mythologist Daniel Deardorff and Quinault Ambassador Harvest Moon & guests.
This benefit event will be held in Port Townsend, WA at the Quimper Unitarian Universalist Fellowship on April 1, 6:30pm. The group is offering a sliding scale of $12-25 and no one will be turned away. For more info please visit: www.brianrohr.com/trickstertales2013.
Please be aware that while families are invited and welcome, we are telling stories of the Trickster and mature themes and language may be present (and usually are).
About the Artists:
Johnny Moses whose traditional name is Whis.stem.men.knee (Walking Medicine Robe), is one of the most popular storytellers in North America. With beauty, wisdom and humor, he shares both traditional and contemporary stories in a wide variety of settings, including festivals, libraries, schools, and private gatherings. Johnny has shared stories with thousands of people, including audiences at the prestigious National Storytelling Festival, at the Lincoln Center, University of California, University of Washington, Naropa Institute and the New York Open Center. In his tradition there were no formal schools; wisdom and knowledge about all areas of life were handed down in stories. Johnny shares each story in English, traditional sign language, and one of the eight native languages that he speaks fluently.
Daniel Deardorff is a "Singer" in the old sense of that word, which involves being a musician, a storyteller, a poet and a maker of ritual. He has been a composer and a performing artist for more than four decades. Renowned as a storyteller and teacher, Deardorff is adept at combining the ancient medicine of wisdom stories from around the world with poetry and rhythm. He is the author of The Other Within: The Genius of Deformity in Myth, Culture, & Psyche. Residing in Port Townsend, he is the founder of The Mythsinger Foundation www.mythsinger.org and the Mythsinger Consortium, an online community: www.mythsinger.net.
Harvest Moon is a Quinault Ambassador, historian, basket weaver and storyteller whose name means "A light shining forth in the midst of darkness". She has been telling stories over half her lifetime, ones that will make you laugh, cry and will move you. She speaks from her heart and spirit, leaving people looking at a different perspective of the Northwest Coast Native Americans. She has received the "Peace and Friendship Award", from the Washington State Historical Society in recognition of significant contributions to the understanding of N.W. Indian Heritage and has served two terms for "The Washington Commission for the Humanities." In addition, Harvest Moon has received grants from the Seattle Arts Commission, Bainbridge Island Arts and Humanities and Heritage Arts Council for "Artist in Residency" through out Washington Schools.
Brian Rohr is a storyteller and healing arts practitioner living in Port Townsend, WA. Having moved from Chicago in 2007 to study with local master Storyteller Daniel Deardorff, he has since shared myth from different cultures to national and international audiences. Rohr first conceived of Trickster Tales in 2009 while hosting a bi-weekly storynight at the Boiler Room. He thought it a great way to bring master storytellers to the community, raise some money for the Boiler Room and have a great time in the process. Rohr has organized and hosted this event each year and is always amazed and delighted by the magic of the evening and the overwhelming positive response from the audience. Rohr is an active Board Member of the Mythsinger Foundation and fully believes that the old stories are alive, vital and can inform us on how to live our lives as authentic human beings.
About the Boiler Room:
The Boiler Room (established in 1993) is believed to be the oldest continuously operating youth-run coffee house in the United States. A 501(c)(3) non-profit all-ages venue for music and art, poetry and theater, a youth-run business/social experiment, a free soup kitchen, The Boiler Room celebrates community, growth, learning and empowerment of youth and the young-at-heart. It strives to support the expression and activities of youth as a part of a larger community, in a healthy and productive way. The support offered is, in part, educational and is provided in a drug and alcohol free environment.