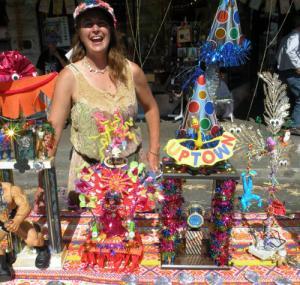 Enjoy a full day of fun in the heart of Port Townsend's Uptown District, with live music, food, arts & children's activities.
The 2013 Uptown Street Fair includes great local music, the Port Townsend Arts & Crafts Fair, the Jefferson County Farmers' Market, tasty food on the street, free art activities for families and much more…Come hang out with your Uptown businesses and neighbors for the day at this colorful community event. The Arts and Crafts Fair and Farmer's Market begin at 9 am, children's activities follow from 10-3 and music from 10 am to 5 pm. Come make a day of it in Uptown Port Townsend.
SCHEDULE OF EVENTS
9 am- 5pm Port Townsend Arts Guild Arts & Crafts Fair and Jefferson County Farmer's Market
10 am- 3 pm All Ages Art Experience–Art activities for children of all ages on the Uptown Rec Center Lawn. Art activities coordinated by local artist Mike Biskup and First Baptist Church. Hula hoops and hopscotch too!
Adult and Kid Artists! Register for the Sidewalk Art Contest before 12:30 pm
1 pm -2 pm GRANDLY LOCAL PARADE
10 am-5 pm Live Music featuring Local Talent!
10 am-11 am Steve Grandinetti Band
11 am -12 noon Port Townsend Summer Band
12 noon -1pm Low Ones
2 pm – 3 pm Crow Quil Night Owls
3 pm – 4:30 pm The Pitfalls