Summer is in full swing and promises to heat up even more with blazing hot events and activities throughout the month. We have performances that will get your blood pumping, your heart thumping and your feet stomping. Bring your family, your best friend, your sweetheart or come solo, but whatever you do, be sure to check out all the fun. Enjoy Port Townsend this summer!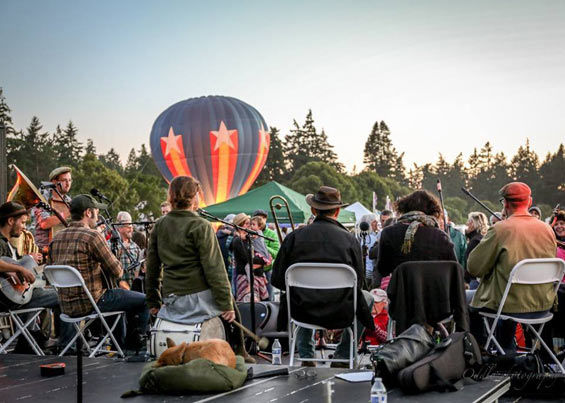 Celebrate America's birthday at Fort Worden and get ready for the biggest and best party of the year at the "Old School" 4th of July. Don't miss an epic lineup throughout the day of live entertainment, food vendors, a beer/cider/wine garden, field games, free root beer floats, miniature golf and a tug-of-war, all culminating in a glorious display of fireworks once it's dark. The festivities begin at 4 pm on the parade grounds at Fort Worden. The event is sponsored by Thunderbull Productions, the City of Port Townsend and the Fort Worden PDA, along with many local businesses. https://thunderbullproductions.com/4th-of-july.html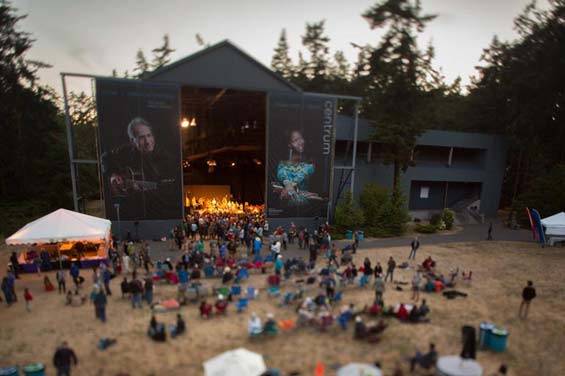 An "Old School" 4th overlaps with Centrum's Fiddle Tunes Festival, a week-long immersion workshop presenting fiddle styles from specific regions of the world. Two performances will honor this American holiday: Fiddles on the Fourth is at 1:30 pm in the McCurdy Pavilion including a BBQ on the Green, and at 7:30 pm, there will be a Swing and Cajun Dance featuring artists from Washington, Missouri and Louisiana, also at the McCurdy Pavilion. For tickets, go to www.centrum.org.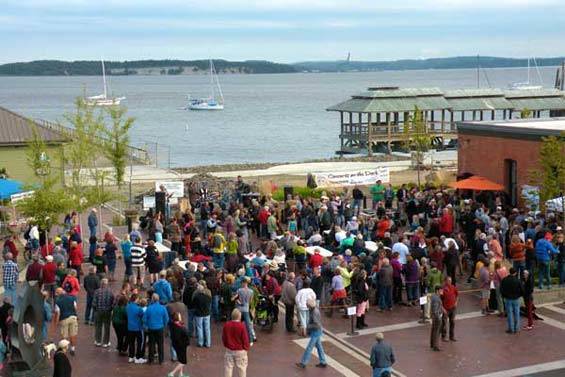 Rock the dock this summer at the free, all-ages, outdoor Concerts on the Dock, in downtown Port Townsend on the waterfront across from City Hall. The series, sponsored by the Port Townsend Main Street Program, runs every Thursday, July 12 through August 30, at the Pope Marine Park/City Dock Civic Plaza. Come to dance, see friends, enjoy a drink and have a bite. Local vendors and a beer/wine/cider garden will contribute to the festive atmosphere. Seating opens at 4:30 pm, show starts at 5 pm and ends at 7:30 pm. Bring chairs or blankets and settle in for some great tunes. For more into and details about the bands that are playing, go to www.ptmainstreet.org/concerts-on-the-dock/.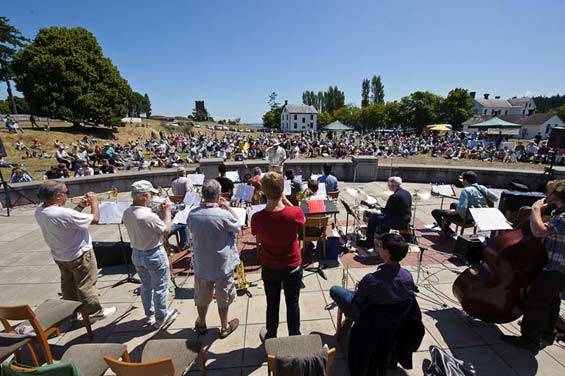 Centrum offers the Free Fridays at the Fort concert series June 29 through August 3, showcasing fiddle tunes, jazz, blues, and more on the lawn of the Commons at Fort Worden and is free to the public. Performances begin each Friday at noon and go until 1 pm. Bring a lawn chair or blanket, a picnic lunch or grab something to go at Reveille in the Commons. In the rare event of inclement weather, alternative plans will be posted on www.centrum.org.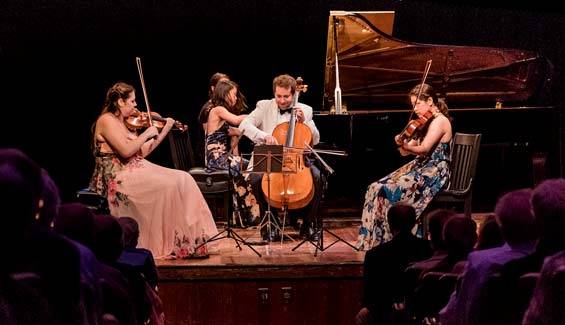 The wildly popular Olympic Music Festival presents its 35th annual summer concert series, offering 12 world-class performances of chamber music and other styles over six weekends, July 14 and 15, and August 11 through September 9. Concerts are presented in partnership with Centrum at Fort Worden.
Opening weekend celebrates the festival season with Bach's monumental Goldberg Variations. Although originally written for keyboard, this extraordinary arrangement by Russian violinist Dimitry Sitkovetsky illuminates the choral-like nature of Bach's masterpiece and has become a standard part of chamber music literature. Violinist Steve Copes, concertmaster of the St. Paul Chamber Orchestra, makes his debut. For tickets, go to www.olympicmusicfestival.org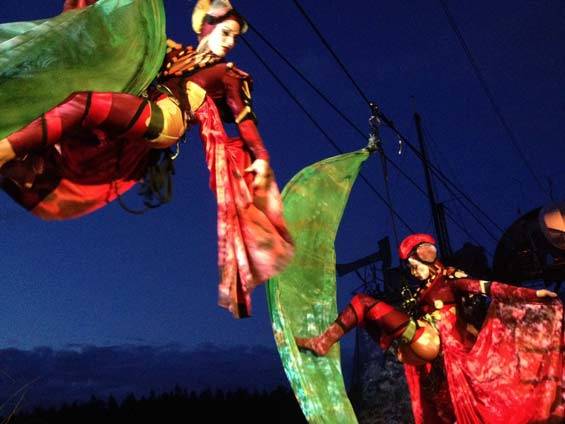 The Caravan returns to the West Coast after a 30-year world tour aboard the company's 90-foot Tall Ship, Amara Zee, a replica of a Thames River sailing barge. They are bringing their original operatic spectacle Nomadic Tempest to the Point Hudson Marina July 24-28 beginning at 10 pm. The show is a mythical saga of monarch migrants—embodied by aerial artists—searching for refuge on a drowned planet.
Audiences gather on the shore to experience original music, soaring vocals, aerial artistry and large scenic elements backed by spectacular lighting and sound effects. The production is a continuous cinematic panorama of originally designed video graphics, animations and images. Within the upper trusses and the lower decks, as the aerialists cavort, a palette of surprises, colors and mechanical transformations are engineered into this one-of-a-kind experimental rock opera. NOTE: This is a theatre performed outdoors. Dress for cooler weather on the water and bring your own chair or blanket. Performances will be on the Amara Zee, facing toward Jackson Street. Tickets are by donation with a suggested price of $30/adult, $20/senior and $10/kids 10+. For more information, go to www.caravanstage.org or call 504.715.7152.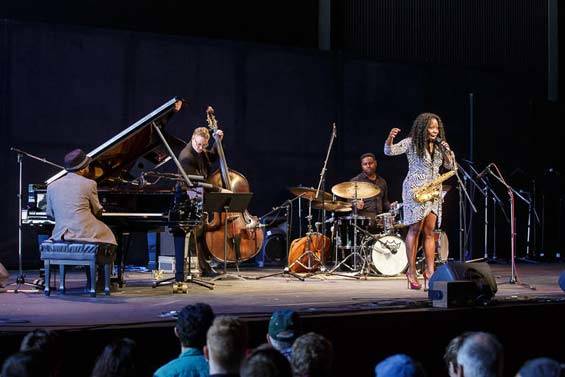 Jazz Port Townsend is the perfect opportunity to experience excellent musicians, soak up a weekend of jazz in a seaside paradise and participate in a wide array of mainstage and nightclub performances, July 26-28. Artistic Director John Clayton inspires a true sense of family during this special week of events that showcases international-known performers in new and unexpected pairings. Jazz Port Townsend has emerged as one of the leading jazz festivals in the nation.
Festival mainstage performances take place in Fort Worden State Park's 1200-seat McCurdy Pavilion. Jazz Port Townsend also features the popular Jazz in the Clubs series, in venues throughout Fort Worden. Come alive with the sounds of jazz. Jazz in the Clubs: Thursday, July 26, 8-11 pm, Friday and Saturday, July 27 and 28, 10 pm – 12:30 am. Mainstage Concerts: Friday, July 27, 7:30 pm, Saturday, July 28, 1:30 pm and 7:30 pm. For more information, go to www.centrum.org.
A few upcoming events later this summer—Save the Dates!
Port Townsend Acoustic Blues Festival, July 29 – August 5. www.centrum.org
Olympic Music Festival at Fort Worden, August 11 – September 9, www.olympicmusicfestival.org
Key City Public Theatre's Shakespeare in the Park, Hamlet—Part 1, August 3 – 26, www.keycitypublictheare.org
Jefferson County Fair, August 10-12, www.jeffcofairgrounds.com
Uptown Street Fair, August 18, www.ptmainstreet.org
Concerts on the Dock, every Thursday in August, www.ptmainstreet.org
Pack up your dancin' shoes, favorite shorts, best hat, music-loving friends and family, and head to Port Townsend for some epic fun and sizzling hot summer events this month. We can't wait to see you!