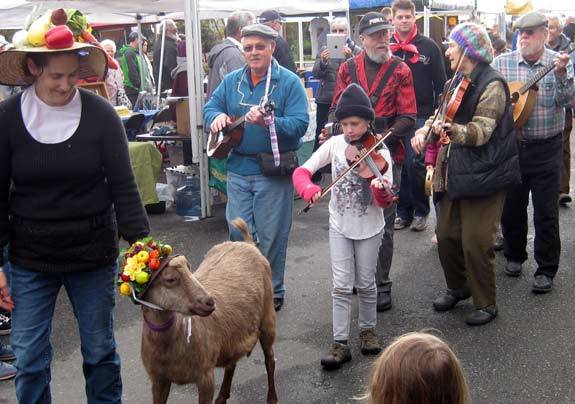 With winter waning and becoming but a fading memory, nature is bursting into bloom. Spring is beckoning hibernating homebodies to come out and play, to breathe the warmer, fragrant air, and relish longer days. So pack your bags and come to Port Townsend for a springtime stay!
Washington Secretary of Health, John Wiesman, will cut the ribbon to open the 23rd season of the Port Townsend Farmers Market on Saturday, April 4 at 9am, followed by the annual Goat Parade, featuring flower-festooned fiddlers, kids (both four-legged and two-legged) with their parents, and of course shoppers, all strolling through the market.
Secretary Wiesman is making the trip to Port Townsend to help celebrate the market opening while promoting his "Healthiest Next Generation" initiative. The goal is to help our children maintain a healthy weight, enjoy active lives and eat well by making changes in early learning settings, schools and communities. Port Townsend already has a head start in meeting a number of the initiative's goals.
In the last few years, more and more fresh and healthy local produce from Port Townsend Farmers Market growers has made its way to the menus at Jefferson Healthcare and recently into the cafeterias of the Port Townsend schools.
Chef and Director of Food Services, Arran Stark of Jefferson Healthcare, has been a key part of the market's education program. In addition to building a menu at the hospital that is healthy, tasty, and local, he teaches classes on how to cook local and healthy on a small budget. Chef Arran will give an opening day seasonal vegetable cooking demo in the market's music tent at 9:30am.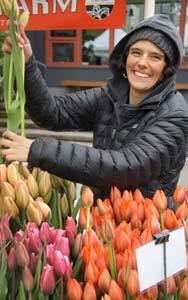 Visitors to the Port Townsend Farmers Market will find lots of seasonal produce: from greens of all shapes and sizes to leeks, potatoes, and lots more. The mild winter and warm spring has led to an early bumper crop of tulips, which will be available by the bucket-load on opening day. Eggs will be in abundance, along with local beef, pork, chicken, lamb and salmon, all direct from the producer or fisherman.
The Port Townsend Farmers Market is open Saturdays from 9am to 2pm, located Uptown on Tyler St. between Lawrence and Clay. For more info, go towww.jcfmarkets.org.
Easter Sunday is April 5. Contact the Port Townsend Visitor Information Center for locations and times of church services, Easter brunch and Easter dinner. Call 360.385.2722 or email info@jeffcountychamber.org.
Celebrate Earth Day weekend at the Port Townsend Marine Science Center on the pier at Fort Worden State Park. See the new Go Blue marine science exhibits opening Friday, April 24 through Sunday, April 26, noon to 5pm. The new Go Blue exhibits feature actions we can take to understand how the ocean sustains our lives and engages in collective solutions for community-wide marine conservation.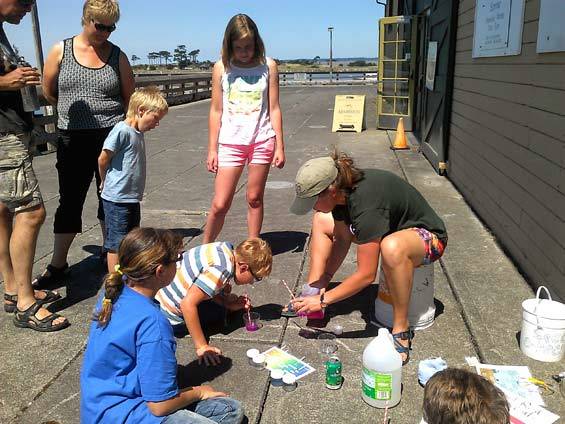 The Go Blue endeavor dives deeper into the global issue of ocean health, reveals the human impact of climate change, plastics, and toxics on marine ecosystems, and provides choices for what we can do as a community, and as families, to address it in our own back yard. For more info go to www.ptmsc.org or call 360.385.5582.
Centrum presents Choro—the Sweet Lament of Brazil on Saturday, April 25, at 7:30pm in the Joseph F. Wheeler Theater with five Brazilian musicians joining legendary Israeli jazz artist Anat Cohen. Choro is the lively, improvisational music of Brazil. A relative of American jazz, Choro is one of Brazil's oldest traditional music styles. Open-seating tickets are $28 and are available at www.centrum.org or by calling 800.746.1982. This concert will sell out, so purchase your tickets early!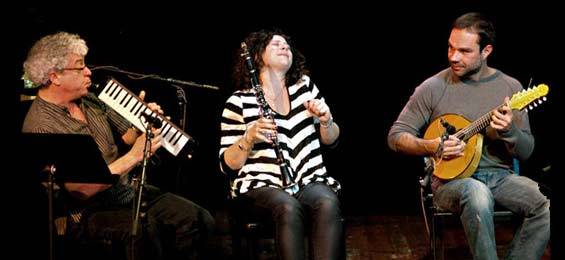 The 15th Annual JeffCo EXPO is the weekend of April 25 and 26, 9am to 5pm, at the Jefferson County Fairgrounds. It includes 4×4 events with dirt drags, an obstacle course, the Tough Truck Competition and the Demo Derby for kids and adults. Monster Car rides are available for both days. On Saturday, there's a horse show and car/bike show. Kids will love the big purple slide and the kids' U-Fish Pond. For more info, go towww.jeffcofairgrounds.com or call 360.385.1013.