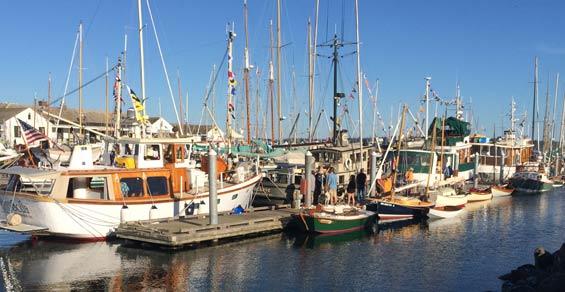 From vintage military vehicles to historic wooden boats, with farm-fresh foods to try and films for every taste, Port Townsend has it all this month. We look forward to welcoming you here!
Back by popular demand again this year, the Military Vehicle Show returns to Fort Worden, September 2-5, 10 am to 4 pm and is sponsored by the Coast Artillery Museum. Vehicles will be parked in the field behind the main gun line at the top of the hill. On Saturday and Sunday free rides to and from the top of the hill (in vintage vehicles) will be available from the gate and from the Coast Artillery Museum with no charge for the rides.
On Saturday and Sunday tours of the Harbor Entrance Control Post will be available from 11 am to 3 pm and the Mortar Battery Plotting Room will be open. There will be a guided walking tour of the gun line starting in the grassy field near Battery Randol at 1 pm on Saturday. For more information, call 360.385.0373 or go towww.coastartillery.org.
The Washington Civil War Association will be setting up camp on Fort Worden's Parade Ground and will be open to the public from 9 am to 5 pm on Saturday, Sunday and Monday. They will also be sponsoring an 1800s Contra Dance in the USO building on Saturday September 3 from 8 pm to 11:30 pm. Donations are appreciated. For more information, http://www.civilwareventfortworden.org/
A week later, the 40th Annual Wooden Boat Festival opens Friday, September 9 at 9 am with pirate ships, paddleboard test drives, a fleet of wooden boats, dancing, and music. Running through Sunday, September 11, the annual Port Townsend Wooden Boat Festival is a weekend of fun for all ages. The festival runs to midnight on Friday and Saturday nights and from 9 am to 5 pm on Sunday.
Organized and presented by the Northwest Martime Center, the festival features live music, kids' activities, spectacular vessels, and captivating speakers throughout the entire weekend. The weekend concludes with the awe-inspiring "Sail-By" at 3 pm on Sunday where hundreds of wooden vessels of all sizes and shapes pour out of the harbor and sail along the waterfront in full sail celebration. "If you are into wooden boats or just looking for a great party, Port Townsend is the place to be the second weekend of September," said Northwest Maritime Center Executive Director Jake Beattie.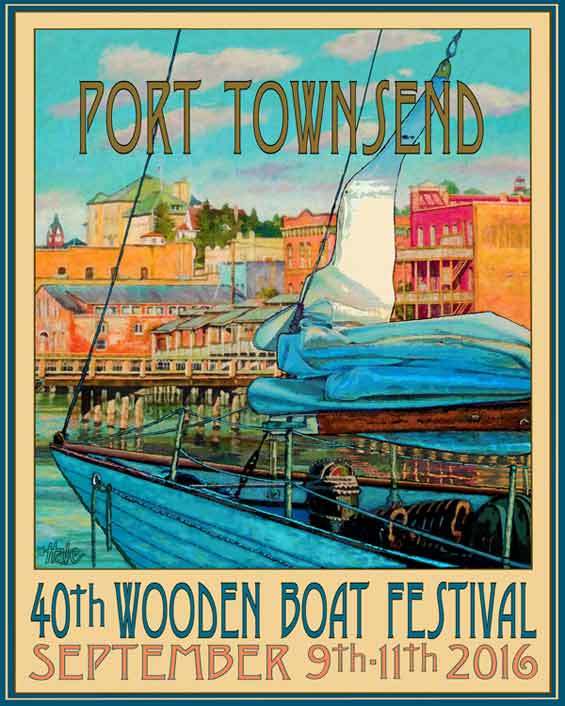 More than 250 wooden vessels will be featured, dozens of indoor and outdoor presentations, and demonstrations ranging from kayak rollovers to outfitting your boat for a solo circumnavigation. Rockstars of the sailing and boating world come from all over to share their talents and knowledge with thousands of wooden boat enthusiasts and amateurs alike.
Highlights of the 2016 festival include tall ships Lady Washington and Adventuressavailable for touring and charter; the beautiful and historic Virginia V, the last steamship of the famed Mosquito Fleet; a screening of "Vanishing Sail," a heartwarming movie about boatbuilding on the tiny island of Carriocou; Gregg Hatten speaking about his epic adventure drift boating through our National Parks; and legends Lin Pardey and Nigel Calder presenting all weekend.
For the weekend's full schedule of events, presentations, and activities during the festival, visit www.woodenboat.org.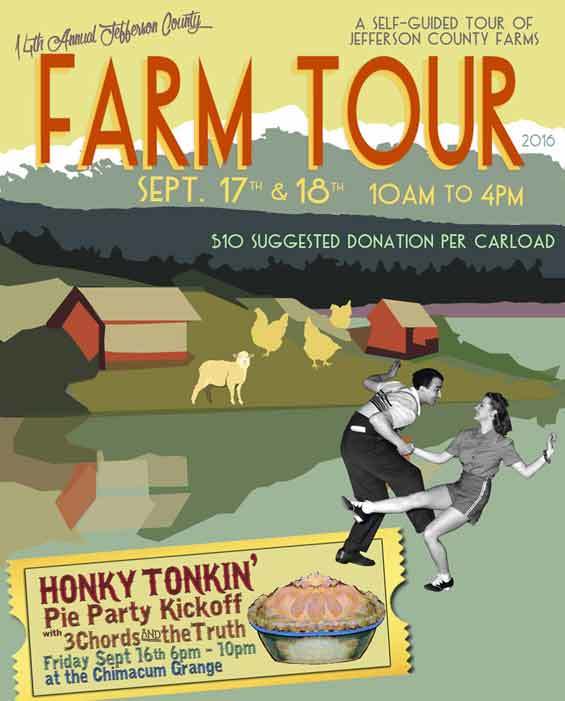 If you're eager to experience a working farm and connect with local farmers, don't miss the 14th Annual Jefferson County Farm Tour, September 17 and 18, from 10 am to 4 pm. With over a dozen Jefferson County farms participating in the tour you'll meet many of the people that are part of the county's thriving food and fiber systems. Experience farm tours, live music, educational demonstrations and kid's activities. Included in the weekend of events are 14 farms which highlight food, fiber, cider, oysters and more.
The Honky Tonkin' Pie Party Kick-off will be September 16 from 6 to 10 pm at the Chimacum Grange featuring "Three Chords and the Truth" and some of the county's best pies from Farm's Reach Café, Crust Pies, the Chimacum Café and more! To watch the locally produced promotional video and for a full listing of events go tohttp://extension.wsu.edu/jefferson/agriculture/farm-tour/.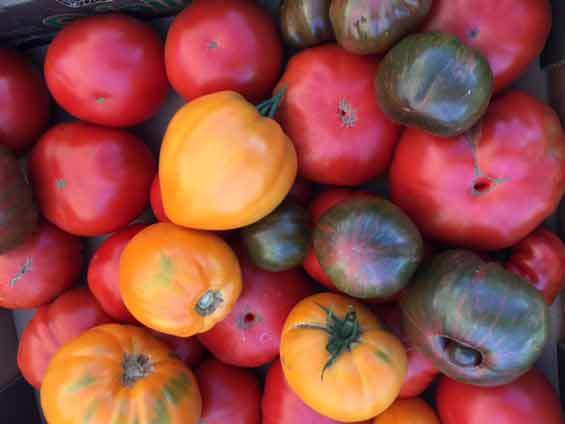 This month at the Port Townsend Farmers Market you can find an abundance of tomatoes large and small; slicers, saucers and salad toppers, ranging from burgundy to bright red and golden to green. Have you ever wondered which varieties you like most? The Tomato Taste Off on September 17 from 9 am to 2 pm, is your chance to answer the age-old question of which tomato most strikes your fancy. Chef Arran Stark will slice and dice more than 10 varieties of locally grown tomatoes for you to taste. Farmers Market food vendors will serve up dishes featuring local tomatoes from paella to tomato basil hand pies. Last but not least, the Organic Seed Alliance will demonstrate tomato seed saving. Learn more at: jcfmarkets.org.

The 17th Annual Port Townsend Film Festival will screen 97 films in the city's walkable, National Historic District, over three days, from September 23 to 25. More than 42 feature films are screened each day in eight theatres, including the restored vaudeville-era Rose Theatre and crystal-chandeliered "Starlight Room."
Punchy short films are "paired like wine and cheese," with feature films, says Executive Director, Janette Force. "They enhance each other." Shorts, some only a minute long, shine with brilliance but are rarely, if ever, screened in commercial theatres.
The festival is known as "the best festival for both introverts and extroverts." Introverts can skip the parties, duck into a dark theatre and lose themselves in a film. Extroverts can buy a pass (Director or Patron level) that gives them concierge service to all films and admittance into parties with the filmmakers; the Patron Pass includes a private Saturday afternoon cocktail party to meet the festival's headliner guests.
Actress Karen Allen, named as one of the most beautiful women in the world in the 1980s, last appeared at the festival in 2013. She returns again this year for Q&A after two screenings of her new film, "Year by the Sea," based on the best-selling memoir by Joan Anderson.
Allen will be accompanied by Alexander Janko, who wrote the screenplay, composed the music and directed "Year by the Sea." A classically-trained cellist, he has orchestrated and composed music for over 65 films. He won the BMI Film Music Award for his original score for "My Big Fat Greek Wedding."
Actor Andrew Perez, a lauded young actor, appears with two of his films: "Bastards y Diablos" and "My Scientology Movie." He both stars in, and wrote the screenplay, for Bastards, filmed in Colombia, South America.
For a complete schedule of films and their trailers, special events, and to buy passes online, go to www.ptfilmfest.com. Passes may also be purchased by calling PTFF's box office, 360-379-1333.
Visit us in September and enjoy everything Port Townsend!
P.S.- The City of Port Townsend wants to show off the town, and we need your help to do it! Enter the City's "Best of Summer in Port Townsend" photo contest, to win a $250 1st place prize or $100 2nd place prize. The contest runs today through the end of the month. Enter and vote on photos at https://enjoypt.com/photo-contest/.