If you are wondering, "What is open in Port Townsend? What can I do there? Are there hotel, restaurant, and camping options?" The answer is you have a number of options! Now is the perfect time to plan your future getaway to Port Townsend.
Some of our businesses are open and more will be opening as our area moves to Phase 3. In the coming weeks as more businesses open up, we ask for your help in keeping our community safe & healthy by masking up and practicing social distancing as you enjoy our extraordinary area.
If getting out for some exercise while staying healthy is on your wish list, Port Townsend has plenty of options for exploring open spaces as travel restrictions are lifted.
Port Townsend is a great place to kick-off your visit to the Olympic National Parks! Start here to warm-up on trails and enjoy some delicious local food and experiences before heading to the national park.
The Larry Scott trail offers many different views of our beautiful city; you can take in stunning views of the ocean, see the boats moored at Boat Haven, and explore quiet, forested stretches of trail, by foot, bike or with a four-legged companion.
As the city has a working maritime waterfront, there are many options for enjoying the water. Kayak along the shoreline and view the cityscape from a unique angle, stroll along the beach at the Point Wilson Light House, or just enjoy the stunning views of the Straits of Juan de Fuca at Fort Worden.
If you are local and a "staycation" is in your plans, our agricultural community is providing fresh farm-to-table food! There are many options to safely get delicious food sourced from the surrounding area. The Jefferson County Farmer's Market is open every Saturday with upgraded safety standards and social distancing. The Food Co-op also provides fresh local food available for parking lot pick up.
The health and safety of our residents and visitors is one of our highest priorities. The City of Port Townsend, Jefferson County, business owners, employees, and visitors have adopted the JeffcoCARES pledge to highlight the care and commitment we have in keeping the community safe. It's the perfect way join the community as we all work together to keep everyone healthy. When we are all free to travel in a safe and healthy way and open all our businesses, this vibrant community will be here to welcome you! Check out the video and our social media sites from the comfort of your home and be inspired by all you can do in Port Townsend. Start planning and dreaming up your future trip!
JeffcoCARES Pledge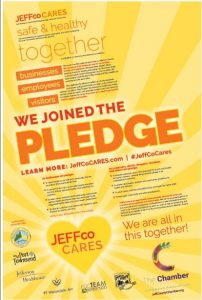 As businesses we pledge:
To demonstrate to our staff and community that we care about them and their families.
To commit to the most up-to-date training and protocols that ensure safe and healthy "best practices" for business.
To wear masks, maintain social distancing, and provide sanitary facility conditions that meet or exceed those suggested by the Washington State and Jefferson County Departments of Health.
To treat all customers and clients with respect in each Phase of economic recovery.
As customers, clients, shoppers, residents, and visitors we pledge:
To educate ourselves about "best practices" for a safe and healthy economic recovery – posted along with this pledge in all participating businesses.
To respect businesses, workers, and community guidelines for health and wellness.
To wear masks, maintain social distancing, and wash our hands often.
To treat each other kindly and without judgement.
We are all in this together!