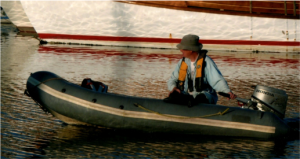 Learn easy skills for repairing inflatable boats on at 12pm, May 22, 2013 at the Northwest Maritime Center.
Stewart Pugh will teaching a class on the basics of inflatable boat repair and maintenance. Attendees will come away with a basic understanding of the different types of boat fabric and how to perform simple patches and repairs. He will discuss the different configurations of inflatable boats and how they are best used. Included are a few "rubber boat tricks" learned from world cruisers.
Inflatable boats are a relatively new invention in the world of boating. They have advanced from the once simple canvas tubes covered with vulcanized rubber to modern synthetic rubber and plastic coated over modern fabrics.
Inflatable boats are the mainstay of rescue vessels and almost mandatory for safe river rafting. Almost all commercial vessels now carry inflatable boats in the form of emergency life-rafts and emergency rescue boats.
Repair of an inflatable boat is easy, but a solid starting point of technique and material is required. A simple mistake can make the boat unrepairable. It is also important to know when a repair should not be done or when the boat is at the end of its life.
Stewart Pugh has worked on all types of marine motors for 45 years and the last 12 years has maintained the fleet of small outboards used by the Northwest Maritime Center and Schooner Adventuress. He has a Port Townsend boat shop that repairs small outboards, inflatable boats and builds underwater robots.
Free Event. Advance Sign up required.
Location: Classroom upstairs above the Boat Shop (red building)
Class size limited to 24 persons. RSVP for a seat at chandlery@nwmaritime.org or call 360.385.3628 ext 101.