Key City Public Theatre, in association with George Rezendes/Toolshed Soundlab, is pleased to announce the lineup for its first ever Winter Concert Series. Jazz Songstress Sylvia Herold takes the stage on February 20th, and Americana Folk-Duo Mollie O'Brien and Rich Moore perform on February 25th.
All concerts start at 7:30 pm at Key City Playhouse, 419 Washington Street, Port Townsend. The lobby bar, serving beer, wine, and other refreshments, opens at 6:30. Tickets ($18) can be purchased online at keycitypublictheatre.org, by phone at (360) 385-5278, or in person at the Playhouse Box Office, 419 Washington Street.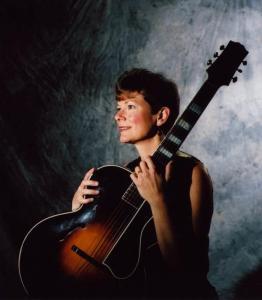 Sylvia Herold, February 20, 2015
Singer, guitarist, and song sleuth Sylvia Herold masterfully mines the motherlode of American jazz and popular song from the 1930s through the 1960s. Songs of wit and romance by composers Cole Porter, Hoagy Carmichael, George Gershwin, and Harold Arlen are lovingly rendered in a voice the San Francisco Examiner calls "mesmerizing." Herold was a member of the swing vocal trio Cats & Jammers and played extensively with The Hot Club of San Francisco.
Currently, Sylvia tours and records with Wake the Dead, Sylvia Herold and the Rhythm Bugs, and Euphonia, as well as The Sylvia Herold Ensemble. She has appeared on more than 25 albums, including five solo recordings. Herold is a resident teacher at the Freight & Salvage Coffeehouse in Berkeley, California, and has also taught at Puget Sound Guitar Workshop, California Coast Music Camp, Port Townsend Voice Works, and British Columbia Swing Camp. Chuck Ervin will be joining her at Key City Playhouse on bowed and plucked upright bass.
Mollie O'Brien & Rich Moore, February 25, 2015
One voice and one guitar. That's all it takes for Grammy Award-Winner Mollie O'Brien and her husband Rich Moore to reach crowds with their soul-satisfying brand of Americana-Folk. Through the intimacy of this sparse arrangement, Mollie's powerful inflections, phrasings, and nuances shine clear as Rich's articulate guitar fills and interludes provide poignant counterpoint.
Of their most recent release, Love Runner, Gretchen Peters from Songwriter Magazine says, "One part Maria Muldaur, one part Suzy Bogguss & one part Ella Fitzgerald, Mollie O'Brien's voice with its seemingly limitless range is the perfect vehicle for this eclectic set of songs. It takes serious talent to play and sing this effortlessly." That effortlessness undoubtedly results from Mollie's extensive, 20+ years musical career in which she has perfomed with a plethora of different artists, including Chris Thile, Jerry Douglas, Todd Phillips, Sally Van Meter, Nina Gerber, Pete Wernick, and, of course, her brother Tim O'Brien.