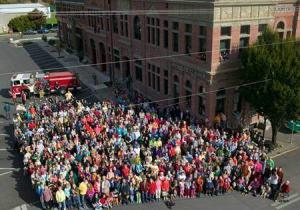 Each year in the Victorian seaport and arts community of Port Townsend, the community gathers for a town-wide photo shoot. Sponsored by the Port Townsend Mainstreet Association, the shoot is a bit of a flash-mob party, combined with a memorable moment in history.
In 2013, the Family Portrait will take place on Saturday, March 23 at the Civic District Plaza, at Water and Madison streets. Plan on arriving at 9:30am.
The photo shoot this year coincides with the Victorian Heritage Festival taking place March 22-24, and so organizers have promised that everyone who shows up in Victorian or Steampunk-inspired costumes will be placed front and center!
Chocolates provided by Elevated Candy Company; coffee samples from Sunrise Coffee.
In celebration of her Centennial Year, The Schooner Adventuress plans to sail by for the photo.

The portrait will be taken by photographer David Conklin, and printed by Printery Communications. Posters ($10 each) will be ready at The Printery's Uptown location after 1 pm that day.
The event is sponsored by Puget Sound Energy, with thanks to City of Port Townsend and East Jefferson Fire & Rescue.