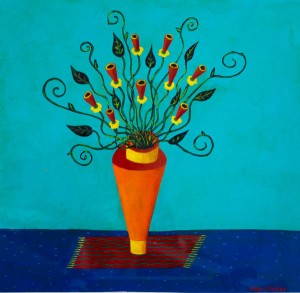 The Jefferson County Historical Museum is becoming the Jefferson Museum of Art and History, with a ribbon cutting on April 28 at 11 a.m., to more accurately reflect its mission and collection.
The Jefferson County Historical Society (JCHS), which manages the museum, has collected art since its founding in 1879. Many of the pieces in the collection were created by teachers and students at Port Townsend's historic art schools, while others are more modern.
A bequest from Nora Porter in 2011 brought over 80 important pieces by Northwest artists into the JCHS collection. The infusion of contemporary art dovetailed with the JCHS plan to increase public awareness of its art holdings.
The opening exhibition will be "Contemporary Expressions of the Northwest: Fine Art from the Robert and Nora Porter Collection." The exhibition will feature work by Jim Alden, Galen Garwood, Max Grover, Anne Hirondelle, Kim Kopp, Evangeline Nakano, Linda Okazaki, Thomas T. Wilson, Martha Worthley and Stephen Yates. The initial exhibition will remain in place through December.
To enhance the visitor's experience, JCHS is planning activities including docent led tours, summer art and history camp, classes in conservation, lectures and coffee talks with artists.
For more information about the opening, or exhibition, call 360-385-1003 or check out www.jchsmuseum.org.