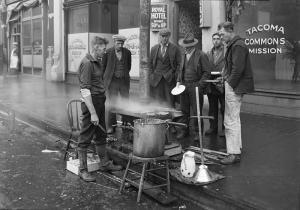 The Great Depression profoundly affected Washingtonians. Many citizens took to the streets in protest, joining with fellow activists and grassroots political movements to rally for solutions to economic crisis. Others survived by forming small communities called "Hoovervilles," in which homeless men lived while hunting for work. Throughout the state, other Washingtonians made it through tough times by making the best of what they had, recycling and reusing everyday items while looking ahead at the promise of better days.
Humanities Washington's traveling exhibit Hope in Hard Times: Washington During the Great Depression explores the adversity and triumph of everyday Americans during the 1930s, comparing the struggles of the 1930s with those faced today. Personal experiences illuminate the broader themes of the exhibition, enlightening audiences about how people lived during these difficult times.
Currently in Port Townsend
at the Jefferson Museum
of Art and History
April 14 – July 7, 2013
Visit Spark magazine for details
This special exhibition invites visitors to use the stories that they see within the exhibit to start conversations of their own about family histories and the impact that this historical event had on their own lives or those of others. The theme of hope woven throughout the narrative reminds viewers that they, too, can find their own opportunities for creating change and learn from the past to impact their present.
Hope in Hard Times will visit eight communities during 2013-14, appearing for 12 weeks at each location. It is curated by the Washington State Historical Society and based on a larger exhibit of the same name that appeared at the Washington State History Museum in 2012.