Ring in 2019 with fun, wildlife, art, history, and strange brews in January!
As the holiday season winds down, celebrate the end of 2018 and the promise of 2019 at festivities around Port Townsend on New Year's Eve.
Launch your year with fun, frivolity and art! Hear and see the incredible array of creativity, not only with music, and art in the galleries in town, but also in our eateries, shops and accommodations. Port Townsend is known as an arts community and you'll find the creative spirit is alive and well here.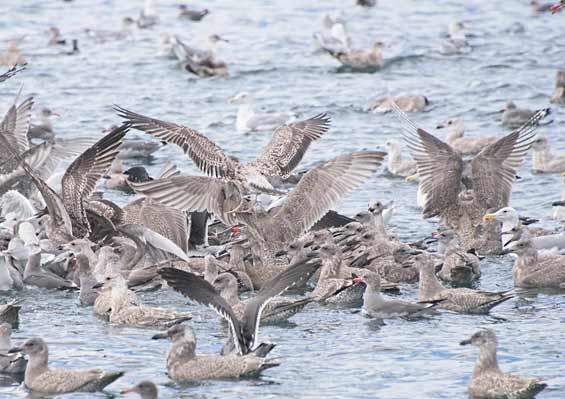 The Port Townsend Marine Science Center is offering a New Year's Eve Wildlife Cruise, in partnership with Puget Sound Express, on December 31 from 1-4 pm. The trip offers a unique opportunity for an idyllic natural science adventure, enabling people to gain a better understanding of our marine ecosystems and interrelationships which abound in these waters. In good weather, the cruise will go through the Protection Island Aquatic Reserve and circumnavigate Protection Island, a national Wildlife Refuge located at the mouth of Discovery Bay. Or, if the weather is rough, it may head south toward Port Ludlow to remain in calmer waters. The trip departs from Port Townsend's Point Hudson Marina. Tickets are $80 per person. Book your reservation online at www.pugetsoundexpress.com/tours/birdwatching-tours/bird-migration-cruise/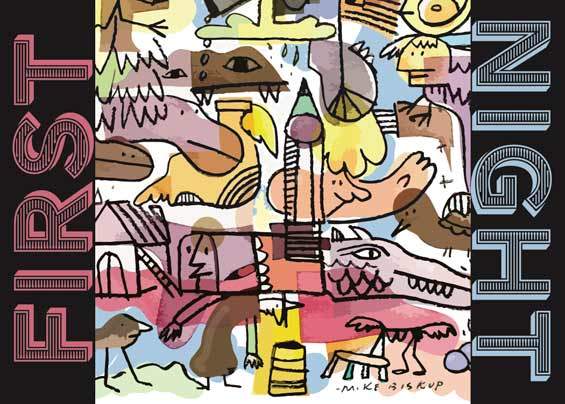 Graphic by Mike Biskup
The Jefferson County Historical Society presents the 12th Annual First Night Community Celebration of Art and Heritage on New Year's Eve, Port Townsend's alcohol-free, family-friendly evening of fun. All activities take place in and around Port Townsend's historic City Hall between 6 and 9 pm on December 31.
The Museum of Art & History will host the Port Townsend High School Interact Club with a variety of hands-on activities for kids, including a history hunt, face painting and crafts. The Port Townsend Film Fest will show film shorts and Louie's World will host karaoke for all ages in the City Council Chambers. A photo booth with props in the art gallery lets participants take home a souvenir image from the night. Also, for kids, the Jefferson Community School hosts a Native American button blanket craft.
New this year, Key City Public Theatre will offer a one-woman performance of Joan Didion's The Year of Magical Thinking. The 7 pm showing is exclusively for First Night pass holders. And across Water Street from the museum, Pope Marine Plaza will be a place to explore numerous activities, including square dancing, seeing live hawks, falcons and owls with Discovery Bay Wild Bird Rescue, and live music plus sweet treats at Elevated Ice Cream.
At 9 pm (midnight in New York), Port Townsend will get a head start on the rest of the west coast and usher in 2019 by raising of an illuminated anchor created by sculptor Thaddeus Jurczynski amid an explosion of brilliant fireworks launched from Memorial Field.
Admission is $8 in advance, $10 day-of-event for adults; all kids and teens are free. Tickets can be purchased online, over the phone at 360.385.1003 and in person at the museum. Proceeds benefit Historical Society programs. For a schedule of events, go to http://www.jchsmuseum.org/NewsAndEvents/FirstNight.html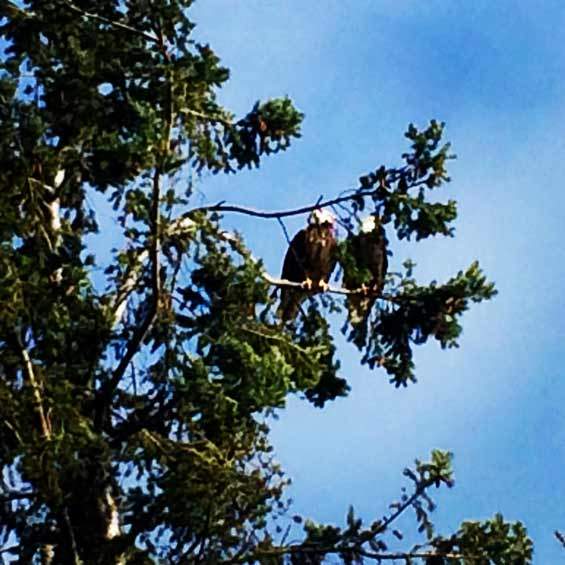 Tuesday, January 1 is a State Parks Free Day, so no Discover Pass is necessary to park at trail heads. Hit the trails at Fort Worden to start the new year with a hike or cycling.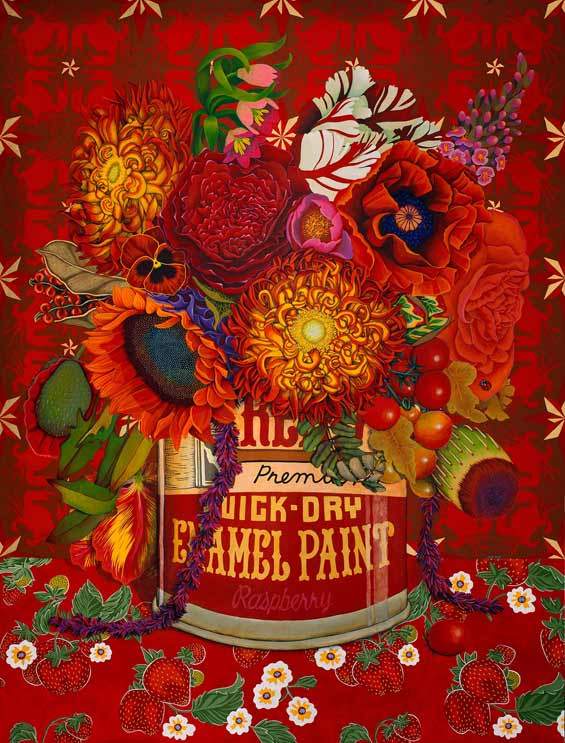 Artwork by Julie Read
Art Walk is January 5 from 5-8 pm where you can indulge your senses with creations from our local artists in more than a dozen galleries downtown and uptown, plus many artists have their work on display in local eateries. The Port Townsend School of the Arts will exhibit faculty art at their gallery on Taylor Street, also offering faculty prints, books, cards and PTSA artful products. Many of the artist-teachers will be on-hand to talk about their work and the classes they offer. For more info, go to www.ptarts.org.
PT Shorts is January 5, a free monthly program, featuring dramatic readings of contemporary literature, read by critically acclaimed authors. Readings are produced by Key City Public Theatre, presented in partnership with Northwind Arts Center's Reading Series. They are held the first Saturday of every month at 7 pm, to coincide with the downtown Art Walk. For more details, go to www.northwindarts.org/programs/reading-series/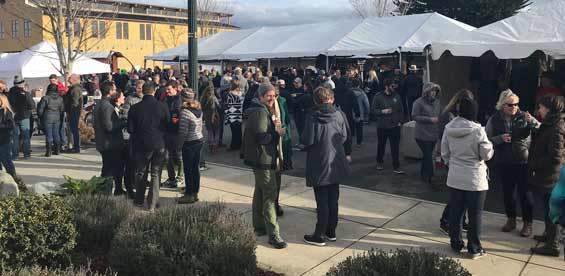 There's no time for winter blues—bring on the strange brews! Plan to attend the 15th Annual Strange Brewfest, Jan. 25-26, boasting wildly inventive, palate-challenging craft brews featuring over 30 breweries and cideries, along with over 60 brews on tap.
Strange Brewfest 15, is the Mount Olympus of beer festivals, as the 15th version of Port Townsend's ode to Northwest brewers and their imaginations lets you party like Greek Gods and Goddesses! This iconic festival is an indoor-outdoor event based in downtown Port Townsend at the American Legion Hall in our National Historic Landmark District.
This year's theme is The Future of Justice Begins with Beer! and honors the women in the brewing industry, as well as the men. The theme celebrates all brewers for who they are—strong, badass superheroes! Please come dressed as your favorite superhero, and capes are encouraged.
Taste is not the only sense that Strange Brewfest 15 will tempt. Be dazzled by the sights and sounds of the weekend with a continuous lineup of rockin' music. Indulge in the carnival-like atmosphere that this festival is known for and enjoy its tasty food, too.
Admission to Strange Brewfest 15 is $35/person (21+) which gives you a souvenir tasting glass, four tasting tokens and a wristband for both days. Additional tasting tokens are $1.50 each. Make reservations for accommodations soon as Port Townsend gets sold out quickly for this event! For event details visit www.strangebrewfestpt.com.
Save the date for upcoming events in February and March:
February 19-10 and February 16-18
Red Wine, Cider & Chocolates
11 am to 5 pm, www.olympicpeninsulawineries.org
February 23
28th Annual Shipwrights' Regatta
www.nwmaritime.org/shiipwrights/
March 7-10
Key City Public Theatre's 23rd Annual PT PlayFest
www.keycitypublictheatre.org
We look forward to welcoming you to Port Townsend in 2019! Wishing you a bright and beautiful Happy New Year!