The Wooden Boat Festival is a magical event, and nothing lets you feel the magic more than getting out on a boat! The festival provides several ways for you to get out rowing or sailing at no charge, but tips go to support youth sailing programs.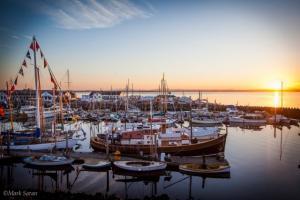 Sign ups start at 9:00 am for morning sails and noon for afternoon sails. Sign up EARLY; slots are filled on a first-come, first-served basis.
Row and Sail a Longboat
Friday 11am to 4pm
Saturday 9:15am to 4:30pm
Sunday 10am– 4:30pm
Sail a Thunderbird
Friday 9:30am – 5pm
Saturday 9:30am – 5pm
Sunday 9:30am– 2pm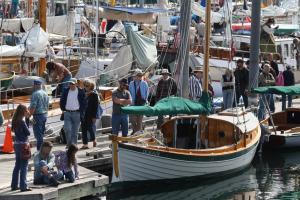 Get Out and Paddle
Visit Pygmy Kayaks at their showroom inside the festival grounds or Chesapeake Light Craft at their display on the Point.
Schooner Sailings
Adventuress – Daily sails from the NWMC dock at 11am and 3pm. Sign up at the Sound Experience booth or the NWMC dock.
Odyssey – Daily sails from City Dock, at Pope Marine Park right outside festival gates. See crew for times and to sign up.
Regattas and Races
Anyone interesting in racing aboard someone else's boat should attend the skippers' meeting(s)— boats are often looking for crew. Times for awards ceremonies will be announced at skippers' meeting(s).
26' and Under Race: Friday at 2:30pm, Skippers' meeting at 1pm at NWMC beach.
Rowing Regatta: Saturday 10am. Skippers' meeting at 9am Compass Rose.
NW Schooner Cup: Saturday 3pm: Skippers' meeting 9am NWMC Beach.
T-37 Model Boat Races: Sunday 10:30am Inner Harbor – Check in at Tippecanoe booth for more information.