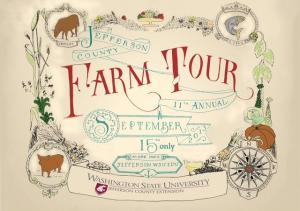 Come and participate in the 2013 Jefferson County Farm Tour! Each year the Farm Tour draws thousands of visitors eager to experience a working farm and connect with local farmers. With 24 Jefferson County farms participating in the tour you'll meet many of the people that are part of our county's thriving food system.
The farms on this free, self-guided tour span many production systems, including dairy, meat, fiber, fruit, vegetable and shellfish. Jefferson County Farms are located in and around Port Townsend, Marrowstone Island, Discovery Bay, Chimacum, Port Ludlow, and Quilcene.
Saturday, September 14, only the fiber farms will be open to host spinning, weaving, roving and plant dye demonstrations. In addition, local fiber artists will have many goods for sale! After the fiber tour, drop by the Chimacum Corner Farmstand for the Pig Roast from 4-9pm, with local dishes prepared by Chef Dan Ratigan, live music, and a beer/wine/cider tent. Tickets for the Roast are $15 per plate.
Sunday, September 15, all 24 commercial farms will open their gates and offer tours. You'll see livestock; cheese making and other demonstrations; take part in apple tastings; learn about shellfish farming; listen to live music, entertainment and so much more. Many farms will host food vendors serving locally inspired dishes, and there will be lots of farm activities for the whole family!
The Port Townsend Food Coop, Chimacum Corner Farmstand, and the Quilcene Village Store will serve as information hubs for the Farm Tour. Be sure to drop by any of the three hubs to pick up the Farm Tour Guide, maps of participating farms, and find carpool companions.
Make the rounds of the Farm Tour by bicycle as part of the Edible Pedal, a co-sponsored event with Edible Seattle where cyclists can ride from farm to farm, all skill levels welcome! For more details about the Pedal and the Pig Roast please visit edibleseattle.com
For more information on the 11th Annual Jefferson County Farm Tour please visit jefferson.wsu.edu