October is stunning in Port Townsend as the leaves take on saffron and russet hues. Fall foliage offers a riot of glorious shades of amber, pumpkin and ruby. The air is crisp with chilly nights, inspiring you to pull out your sweaters and jackets, and if you catch a clear day, the sky seems bluer, with slanted sunlight gracing neighborhoods, marinas and trails. It's a great time to get outside and see Mother Nature showing off, but it's also a month of exciting events around town that will lure you inside. Check out what's happening in Port Townsend this month, making this a favorite time of year to visit.

Thursday, October 4 celebrates Girl Power and Strong Women! at Port Townsend Main Street's Girls' Night Out. It's a day and night of female camaraderie with your BFFs and shopping fun. Downtown stores are hosting special events, in-store promotions and refreshments from 11 am to 8 pm. The evening ends with the popular Wrap Party at 8 pm at The Belmont, with a $10 suggested donation at the door.
Girls' Night Out Headquarters will be at the Cotton Building, 607 Water St. Get your goodie bags here ($25 while they last!) and pick up your Girls' Night Out schedule of events to plan your fun. Goodie bags are filled with gifts from local downtown businesses with coupon books and more.
Ride in style with PTeRider from 4-8 pm. Let PTeRider chauffeur you during the event with free rides downtown for Girls' Night Out customers.
Proceeds from Girls' Night Out benefit Jefferson Healthcare Foundation to help provide breast and cervical cancer screenings, care and treatment for low income Jefferson County residents, as well as the Port Townsend Main Street Program, a 501c3 non-profit. For more info, go to www.ptmainstreet.org/event/pt-main-street-girls-night-out/.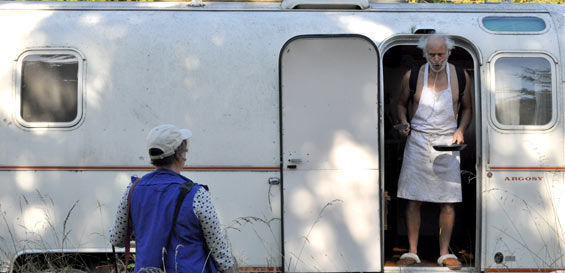 Don't miss Key City Public Theatre's October's production of Annapurna, opening October 4 and running through October 20, Thursdays through Sundays at 7:30 pm, with 2:30 pm performances on Sundays.
What if you had experienced the defining moment of your life, but couldn't remember it? After 20 years apart, Emma tracks cowboy-poet Ulysses to his grungy trailer park where he's working on his magnum opus, hooked to an oxygen tank and cooking in the buff. Their reunion, charged by rage and compassion, brings back the worst and best of their former bond in this comic and gripping duet.
Annapurna premiered at the Magic Theatre in San Francisco in November 2011 and opened Off-Broadway at the Acorn Theatre in a production by The New Group.
Tickets are $24 Thursdays and Sundays, $29 on Fridays and Saturdays. There will be Pay-What-You-Wish performances on October 7 and 11. For more information or to purchase tickets, go to www.keycitypublictheatre.org.
And be sure to join the KCPT crew to celebrate the theatre's 60th Anniversary for a benefit event on October 28 of "Krapp's Last Tape." On the 60th anniversary of Beckett's 1958 world premiere, KCPT presents a special benefit performance and exclusive cocktail party. The event includes door prizes, artist meet-and-greet and more!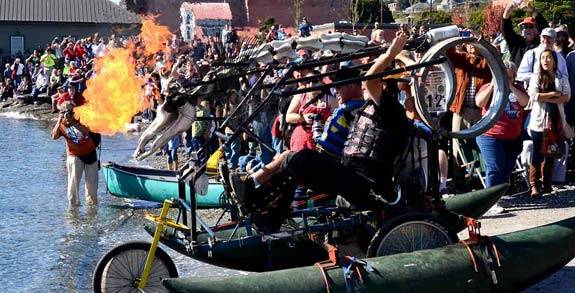 The 36th Annual Great Port Townsend Bay Kinetic Sculpture Race launches Saturday, October 6, with thrills, chills, songs, and, of course, there will be glory! Mediocre Super Heroes is the theme this year inviting you to search deep within yourself and find your own personal super power. It all begins Saturday with the 1st Annual ART Kontest and Parade. If you've always wanted to express yourself creatively with moveable art, this is your chance! Art judging and the parade line up begin at 10 am, with the parade starting at low noon in downtown Port Townsend. The Rosehips Ball and Kween's Kostume Kontest is from 8 pm-midnight at the American Legion Hall, where you can dance the night away to Uncle Funk and the Dope. Sunday, October 7, the Kinetic Sculpture, Sand and Mud Kourse Race begins at low noon, concluding with the Survivor's Post Party and Awards Ceremony at 6 pm where everyone will bask in the glory! For more info, go to www.ptkineticrace.org

Sing, dance and laugh along with nationally acclaimed comedy educator and performer Billy "Billy B" Brennan as he takes the stage for a one-night-only performance at the Joseph F. Wheeler Theater at Fort Worden, October 9, at 7:30 pm. Billy's musical parodies reflect an unrivaled intellect present in his thought-and-laughter-provoking lyrics. Through his musical works, he addresses contemporary concerns and educates audiences of all ages in creative ways, achieving greater common awareness through the joy of song. Doors open at 7:30 pm. Tickets are available at www.centrum.org or at the door.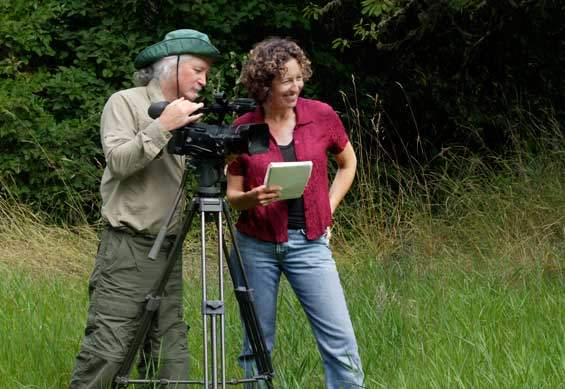 When filmmaker Jessica Plumb first premiered Return of the River at the 2014 Port Townsend Film Festival, audiences were captivated—earning the film Audience Award for Best Documentary. On Thursday, October 11, at 7:30 pm at the Joseph F. Wheeler Theater at Fort Worden, Plumb invites audiences to revisit the film through a new lens as she shares the results of ongoing scientific studies mapping the effects of the Elwha Dam removal on the river's ecosystems and native species.
The film follows a group of strong-minded, committed people as they attempt the impossible: to change the public opinion of a town, and eventually the nation, to bring the dam down. The community comes to a consensus, setting the Elwha River free and showing the way to a more sustainable future. Amid grim environmental news, Return of the River is a film infused with hope. Admission is a suggested donation of $10. Tickets are available at the door and doors open at 6:30 pm.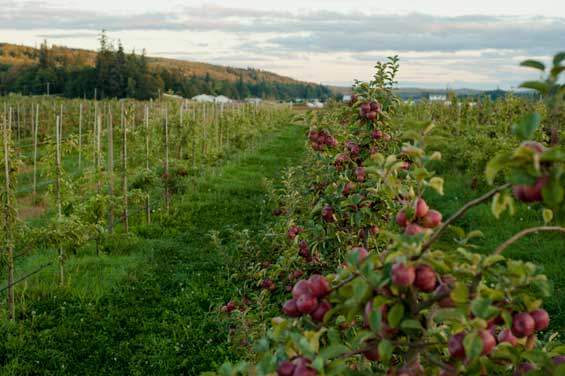 Photo by Jen Lee Light
Celebrate the season and taste the region at the 2nd Annual Olympic Peninsula Apple and Cider Festival, October 12-14. Hosted by East Jefferson County cider makers, this three-day event begins Friday evening with a Harvest Dinner at the Palindrome, home to Eaglemount Wine & Cider, followed Saturday morning with a robust farmers market, hard cider tastings in the afternoon, an Apple Festival Dinner at the Fireside Restaurant in Port Ludlow and a Fall Fire Party at Propolis Brewing later in the evening in Port Townsend. Start your day Sunday with a Ploughman's Cider Breakfast at Alpenfire Cidery, followed by cider pressing and seminars in the afternoon, culminating with an all-ages World Apple Day celebration at Finnriver Cidery. For a truly authentic Pacific Northwest, tree-to-glass experience, go to www.AppleandCiderFest.com.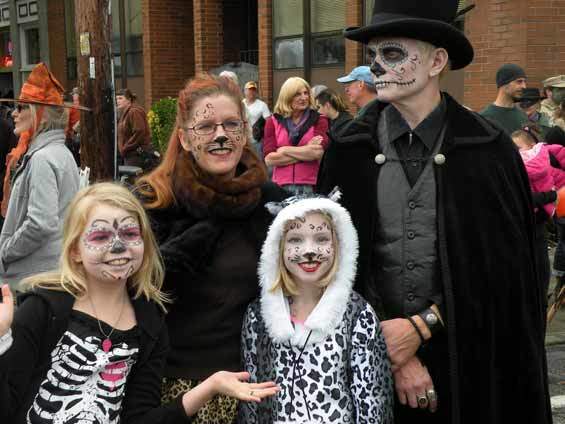 And for the kiddos, don't miss the Port Townsend Main Street's 23rd Annual Downtown Trick or Treat, October 31 beginning at 4 pm with a parade down Water Street. Our merchants will be offering treats for the kids…and, you never know, maybe some tricks too!
---
Save the date for upcoming events in November and early December:
November 3-4
Jefferson County Holiday Craft Fair
www.jeffcofairgrounds.com/events/hoiday-fair/
November 3-4
13th Annual Port Townsend Woodworkers' Show
www.ptwoodschool.org/events/
November 10-11
Harvest Wine and Cider Tour
www.olympicpeninsulawineries.org
November 23-24
Port Townsend Arts Guild Holiday Craft Sale
www.porttownsendartsguild.org/events.html
November 24
Main Street's Merchants' Open House and Small Business Saturday
www.ptmainstreet.org
November 29-December 22
Key City Public Theatre's "Spirit of the Yule"
www.keycitypublictheatre.org
December 1
Main Street's Community Treelighting and Santa's Visit
www.ptmainstreet.org
Visit us this fall and enjoy everything Port Townsend!