The happiest time of the year is here and Port Townsend is all a-twinkle and a-jingle, ready for you to make joyful memories and delight in this season's festivities. Thanks to generous individuals and businesses, the town will be all dressed up and sparkling with more lights than ever before, shining a welcome to you as you make holiday wishes and dreams come true.
Hear children laughing when Santa rides into town. Breathe in the enticing scent of fresh baked cookies and pastries. Feel the warmth as you're greeted in our shops, and smile as families and friends gather to wish one another joy and peace. Unwind at the end of the day with a libation and enjoy our inspired eateries. Tuck in for a comfortable stay in one of our charming accommodations…everything you want for some well-deserved R&R.
We've listed many of the upcoming fun-filled seasonal events to help you plan your holiday escape to Port Townsend!
SLEIGHBELL SATURDAYS
December 6, 13 and 20, 2014
1-3 pm Victorian Open Parlors
Tour beautifully decorated 19th century buildings and homes with historically costumed docents, seasonal music and holiday treats. Tickets are $15/person. Reservations recommended, however tickets may be purchased at the first stop of each tour. www.vicfest.org
Featured locations: Old Consulate Inn, Commander's Beach House, Ravenscroft Inn, Huber's Inn, Quimper Inn, Blue Gull Inn, McCurdy House and the Bishop Victorian Hotel. Coordinated by Olympic Peninsula Steam.
December 6, 13, 20 and 27, 2014
7:30 pm Key City Public Theatre presents "Cinderella"
Adapted from Charles Perrault's classic folktale of hope, kindness and magic, this production combines splendor, slapstick and song in a unique all-ages holiday celebration of the girl whose goodness elevated her from rags to riches. Tickets and info at www.keycitypublictheatre.org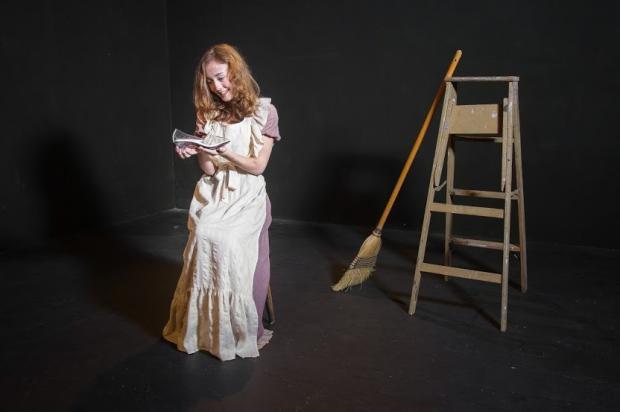 Saturday, December 6, 2014
4:30 pm Treelighting and Santa Visit at Haller Fountain
There's caroling in the streets with the Wild Rose Chorale from 1-3 pm, in-store treats and many shops will be open later. Come to Haller Fountain for the annual community treelighting and visit from Santa, who will be arriving via the Kiwanis Choo Train to light the tree. After the treelighting, Santa will visit with children to hear their Christmas wishes. Coordinated by the Port Townsend Main Street Program. www.ptmainstreet.org
5:30-7:30 pm First Saturday Gallery Walk
Tour the towns many galleries, showcasing work from local artists.
Saturday, December 13, 2014
1-4 pm Victorian Yuletide Salon
Step out of the weather and into a welcoming Victorian parlor to savor an Olde Time Christmas in the splendid foyer of the Jefferson Museum of Art and History at 540 Water Street. Father Christmas will greet you amidst the sounds and scents of the season. There will be photos with Father Christmas, live music, treats and startling history. Coordinated by Olympic Peninsula Steam.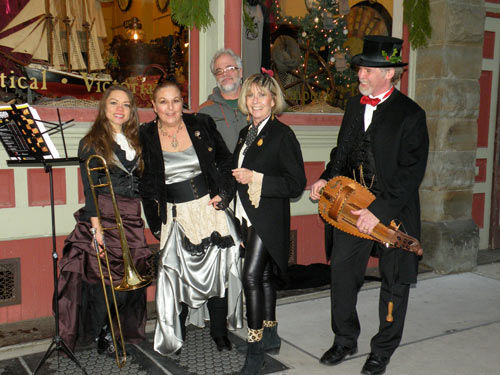 1-4 pm Kiwanis Choo-Choo Rides for Children
Meet across the street from the Jefferson Museum of Art and History. $5 suggested donation with proceeds benefitting tschool arts education and music programs.
1-4pm Dockside Holiday Open Ship
Come aboard the historic schooner Adventuress at Point Hudson Marina in Port Townsend. Free tours, hot cider, cookies, and caroling.
Saturday, December 20, 2014
1-3 pm Caroling in the Streets, coordinated by Key City Public Theatre
1-4 pm Kiwanis Choo-Choo Rides for Children
Meet across the street from the Jefferson Museum of Art and History. $5 suggested donation with proceeds benefitting the school arts education and music programs.
Monday, December 22, 2014
6-10 pm Main Street Quarterly Pub Crawl—wear your Santa hat!
Wednesday, December 31, 2014
1-4 pm New Year's Eve Wildlife Viewing Cruise with the Port Townsend Marine Science Center.
The trip leaves from Port Townsend's Point Hudson Marina. Tickets are $55 per person. Book your reservation online at www.ptmsc.org or call 360.385.5582, ext. 104.
6-9 pm Ring in the New Year at the First Night Celebration
First Night, organized by the Jefferson County Historical Society,  is a family-oriented New Year's Eve celebration focused on art and culture which takes place in Port Townsend's historic city hall and other downtown venues.  Activities include hands-on art and history projects, music, dance, theater, storytelling, and puppetry.  For more information contact JCHS at 360-385-1003 or www.jchsmuseum.org.
Happy Holidays and Enjoy Victorian Port Townsend!