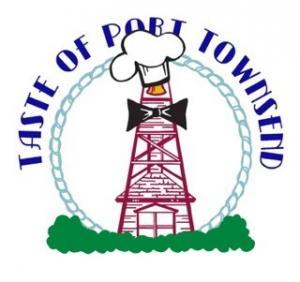 Tickets are on sale now for The Port Townsend Main Street Program's Taste of Port Townsend, one of the most exciting culinary events of the year.  Mark your calendar for Thursday, June 13 from 4 to 7:30 pm, and come with friends and have fun sampling some of the finest quality food Port Townsend has to offer.
One ticket gives you admission to all 13 restaurants on the tour. There are six new participating restaurants this year. From Doc's Marina Grill at Point Hudson, downtown venues and up to The Food Coop, The Cup and Manresa Castle Restaurant and Lounge, there are dishes for every taste.
Enjoy gluten-free pizzas and clam chowder, vegetarian options and many choices for the omnivores! Blackened Halibut Bites, Chicken Pesto Crepes and Rustica Pizza are on the menu. There are Teriyaki Drummettes, Tangy Green Papaya Salad, Lamb Balls with Roasted Beet Tzatziki, crab cakes and surprises for your sweet tooth.
The  Taste of Port Townsend is a fundraiser for the Port Townsend Main Street Program, a 501c3 nonprofit.
Tickets are $30; children (12 & under) $20.
Buy tickets on-line at www.eventbrite.com or at:
Safeway on Sims Way;
Quimper Sound, 230 Taylor Street or
The Food Coop, 414 Kearney Street.
2013 VENUES
Manresa Castle Restaurant & Lounge – 7th& Sheridan
Bruschetta & Smoked Salmon Chowder
The Cup – 600 Sims Way
Deep Fried Button Mushrooms with Yogurt Dill Dipping Sauce, Grown Up Mac & Cheese & Blackened Halibut Bites with Bacon & Lettuce
The Food Coop – 414 Kearney Street
A Picnic ~ Traditional Potato Salad & Teriyaki Drummettes
Water Street Creperie – 1046 Water Street
Chicken Pesto Crepe, Vegetarian Crepe & Nutella Crepe
Cellar Door – 940 Water Street
Mediterranean Deviled Eggs & Lamb Balls with Roasted Beet Tzatziki
Drink Samples for those 21 & Over
The Belmont Restaurant – 925 Water Street
Chicken Adobo
Perfect Dreams Cupcakes – 909 Water Street
Lavender Cupcakes
The Brickhouse Bistro – 232 Taylor Street
Pizza Samples: Rustica, Firma, Classic, & Apple Chicken Gorgonzola
Silverwater Café – 237 Taylor Street
Crab Cakes with Lemongrass Aioli & a Sweet Surprise
Khu Larb Thai/Little Rose – 225 Adams Street
Moo Ping (marinated and grilled pork satay), Som Tum (tangy green papaya salad)
& Sticky Jasmine Rice
Addie Mae's Southern Kitchen – 634 Water Street
Hush Puppies, Crawfish Ettouffee & Chipotle BBQ Ribs
The Boiler Room – 711 Water Street
Samples of Chocolate Chip Cookies, Peanut Butter Cookies, Oatmeal Raisin Cookies, Snickerdoodle Cookies, Sunrise Coffee & Homemade Chai
Doc's Marina Café – 141 Hudson Street, Point Hudson
Gluten-Free Clam Chowder, a taste of our Fish & Chips and an El Portal Slider