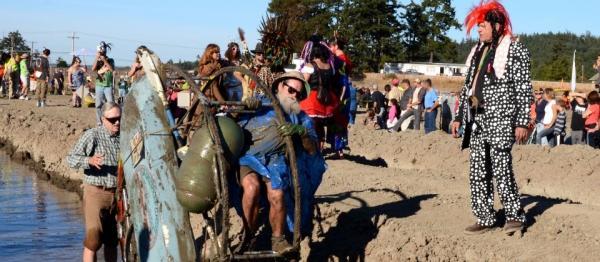 Choose your favorite Kartoon Kharacter and join us for our 31st annual kinetic sculpture race on October 5th and 6th.
The GREAT Port Townsend Bay Kinetic Sculpture Race was created in 1983. A Kinetic Skulpture is a human powered, artistically enhanced vehicle that must go through sand (Kwick Sand), mud,(The Dismal Bog), float on water, and transverse hilly, silly neighborhoods.
Some skulptures are engineering marvels while most are… a mixture of bicycle parts, styrofoam, duct tape, imagination and prayers. Awards are given to each racer whether they want it or not, but the most highly prized award is the Mediocrity Award; the skulpture that finishes in the middle of the pack. Bribes help. Kinetic racers and the glorious spectators must be kapable of having fun without taking the event too seriously.
Saturday's festivities start at Low Noon begining with a parade downtown followed by a break & floatation test. Later that evening starting at 8:00pm there's a Koronation Ball where the new Rose Hips Kween will be chosen, an unbelievable event. Live music will be played by a live band.  (We tried the zombie bands… didn't quite work!)
Sunday, the race begins at Low Noon in front of city hall and ends around 5 pm with an awards ceremony.Kinetic Kops will issue citations, kontrolling khaos and konfusion at the event. Bribes will be kollected for the Kinetic Konsortium and the very in-famous Judges.