Learn about a local favorite!
When the first white settlers arrived in Port Townsend in the early 1850s, they were given a warm welcome by Chief Chetzemoka and his S'Klallam tribe. The chief aided in the settlement of the newly established town, befriending many of the explorers who held him in high esteem due to his support and assistance.
In June 1904, City Council donated land on the bluff overlooking Admiralty Inlet to build the city's first public park. Several hundred Port Townsend volunteers created the newly formed Civic Club and participated in a Park Day clearing trees and underbrush across several acres, planting flowers, shrubs and lawns. Once the park was completed it was dedicated in honor of the chief and his importance to Port Townsend's early pioneer days, naming it Chetzemoka Park.
Today, its natural beauty and tranquil, lush setting offer a welcome oasis, inviting you to wander the grounds and breathe deeply of the park's natural essence. Take time to delight in lovely flower gardens, meander under towering old-growth evergreens or on winding paths along the wooded cliff. Saunter through the rose-covered trellis walkway and discover the tropical water garden.
The park's entrance opens to an expansive lawn with commanding views of the Cascade Mountains and the Salish Sea below. Take the steps down to the beach where, at mid- to low-tide, you can walk north to Fort Worden or south to Point Hudson in downtown Port Townsend.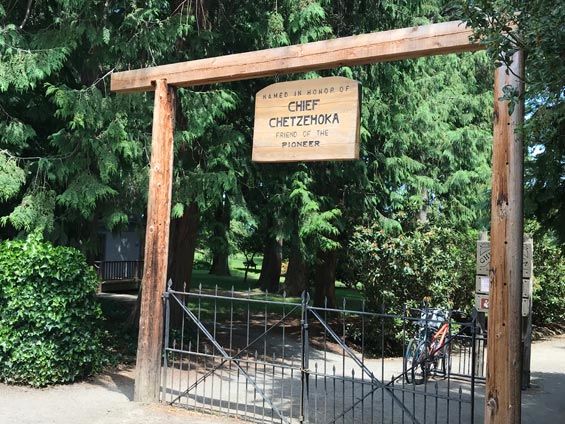 A striking gazebo, with an architectural nod to Victorian homes in the area, is a gathering place for weddings, picnics, family reunions and sometimes used as a bandstand. Bring the kids and while they're occupied on the playground, relax on a nearby swing and take in the spectacular vistas. Picnic tables are nearby for snacks or meals and a kitchen shelter, with a cottage garden framing it, can be rented for special events and occasions.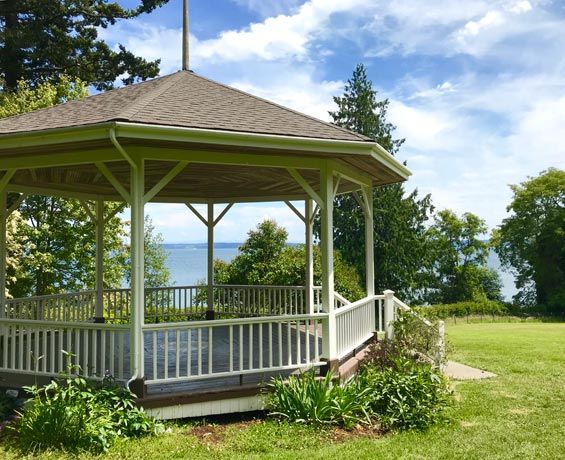 The park is home to Key City Public Theatre's "Shakespeare in the Park," Thursday through Sunday evenings in August. In 2018, their production is Hamlet.
On any given day throughout the year, you'll find people enjoying a quiet lunch or families at play. It's no wonder, locals often refer to Chetzemoka Park as a hidden gem and one of Port Townsend's crown jewels.