Party down in Port Townsend in August with live music all around town, Shakespeare in the Park and summer fairs for the whole family. You won't want to miss a minute!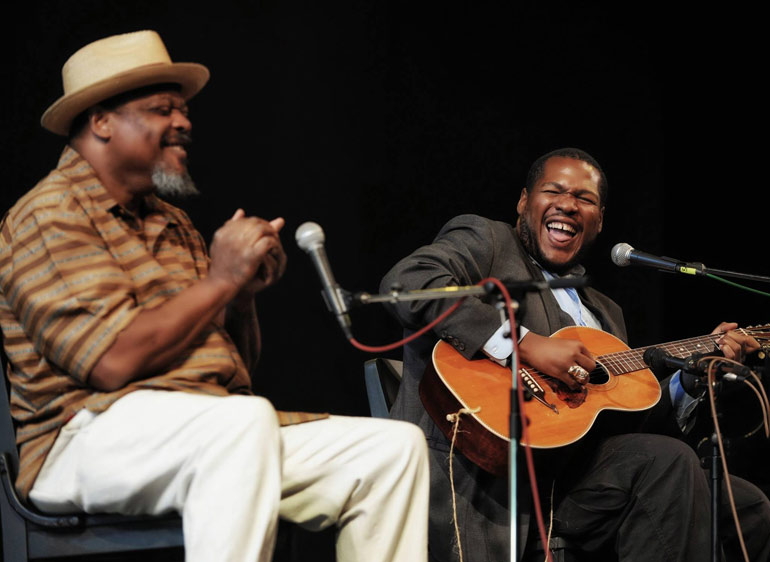 The Port Townsend Acoustic Blues Festival heats up the park with "Blues in the Clubs" as a moveable feast of great music for all ages in various venues at Fort Worden State Park. One nightly wristband gives you the freedom to move around to all the venues throughout the evening, gaining the full benefit of the club experience. Centrum's Blues faculty will play sets in all sorts of interesting combinations on Friday, August 2 and Saturday, August 3 from 8 pm – midnight. For more information, go to https://centrum.org/port-townsend-acoustic-blues-festival-performances/.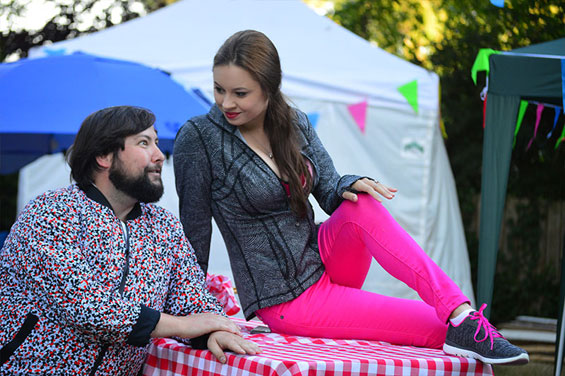 Key City Public Theatre is proud to present "The Merry Wives of Windsor" at Shakespeare in the Park this month. Jealousy, glamour, ego and lies. In this contemporary version of Shakespeare's merry comedy, Sir John Falstaff returns to Chetzemoka Park with plans to hustle his way to comfortable retirement by seducing two of Windsor's prominent wives. But these wealthy and witty women hold all the power throughout an outrageously funny picnic outing. The ladies finally have their day in this summer's Shakespeare in the Park, adapted and directed by Denise Winter.
Performances run Aug. 2 through 25, outdoors in beautiful Chetzemoka Park (Jackson and Blaine Streets), Fridays through Sundays at 6 pm. All performances are Pay-What-You-Wish at the gate, with advance tickets costing $29, available at the playhouse box office at 360.385.KCPT (5278) or online at http://www.keycitypublictheatre.org/.
Audience members are encouraged to bring blankets or lawn chairs for seating on the grass and to dress warmly for when the sun goes down. Picnic fare is welcome. Concessions will also be sold.

The dock is still rockin' for a few more weeks at the free, all-ages, outdoor Concerts on the Dock in downtown Port Townsend. Sponsored by the Port Townsend Main Street Program, the concerts will be Thursdays, August 1, 8, 15, 22 and 29, at the Pope Marine Park/City Dock Civic Plaza. Local vendors and a beer, wine and cider garden will contribute to the festive atmosphere. Help us "Go Green" by renting a reusable cup during the concert and returning it at the end of the show. So far this has dramatically reduced the amount plastic used at each concert. Seating opens at 4:30 pm, show starts at 5 pm and ends at 7:30 pm. Bring a chair or a blanket and settle in for some great tunes. For the list of bands, go to http://ptmainstreet.org/concerts-on-the-dock/.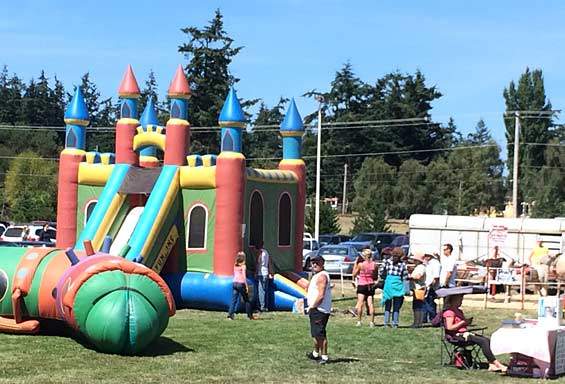 The Jefferson County Fair welcomes you to this year's Jammin' Jungle-themed fair, August 9, 10 and 11. Meet farm animals up close. Cheer on riders as they put their horses through their paces. See the largest fruits, vegetables and flowers grown in Jefferson County. Hear music from fantastic bands and get your dancin' boots on. Take a turn at riding the bull. Indulge in an elephant ear or a corn dog. Or watch the demo derby or mud drag. It's everything a country fair should be—don't miss it!
Open 10 am to 9 pm Friday and Saturday, 10 am to 6 pm Sunday. For more details and ticket info, visit http://jeffcofairgrounds.com.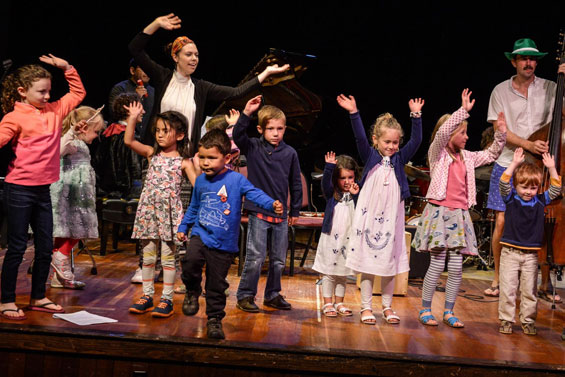 The Olympic Music Festival (OMF) presents its 36th annual summer season in partnership with Centrum at Fort Worden. World-class chamber music performances take place at the Joseph F. Wheeler Theater, Saturdays and Sundays at 2 pm, August 10 through September 8. Programming also includes a free family concert on Sunday, August 25 from 10:30 am – noon at the Northwest Maritime Center.
Since the beginning of his tenure in 2014, OMF Artistic Director Julio Elizalde has electrified audiences by presenting world-class artists on the Olympic Peninsula in programs that center on the classical chamber music repertoire and, on occasion, venture into styles such as American folk music and jazz. To purchase tickets and for more detailed information about the performances, go to www.olympicmusicfestival.org or call 360.385.9699.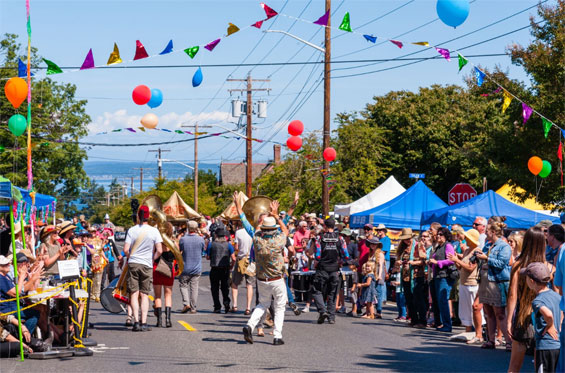 Photo by Deja View Photography
On August 17, the beloved Annual Uptown Street Fair and Parade celebrates 29 years of fun in Uptown and includes great local music, the Port Townsend Arts & Crafts Fair, the Jefferson County Farmers Market, tasty food on the street, free art activities for families and much more.
Come hang out with the Uptown businesses and neighbors for the day at this colorful community event. The Arts and Crafts Fair and Farmers Market begin at 9 am; kids' activities follow from 10 am – 3 pm, and music from 10 am – 4:45 pm. The parade and awards are at 2 pm. Come make a day of it in historic, pedestrian-friendly Uptown. Lawrence Street and Tyler Street are closed for the Street Fair, as well as the Farmers Market location on Polk Street. Bring your appetite—there will be delicious local food vendors at the event. Coordinated by the Port Townsend Main Street Program and sponsored by generous local businesses. For more information, go to http://ptmainstreet.org.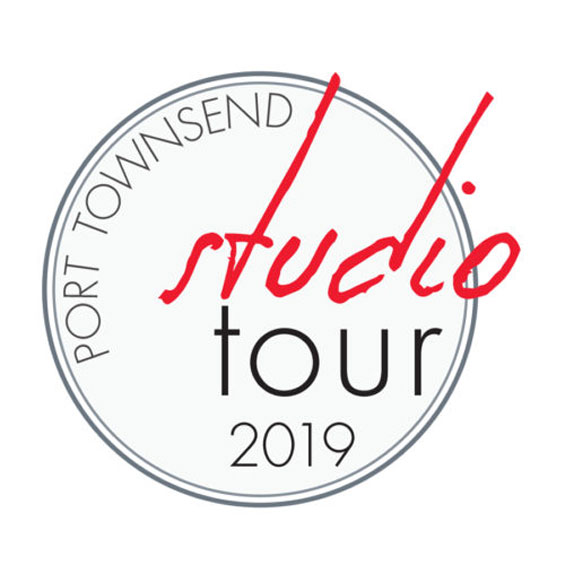 The Art Port Townsend 21st Annual Artist Studio Tour is a festival of the visual arts featuring an open studio tour of local artists. The tour is the final event of the annual Art Port Townsend Festival. Professional artists open their studios to provide demonstrations and display their work in many different mediums such as oil, watercolor, acrylic, pastels, printmaking, sculpture, ceramics, woodworking, fabric arts, glass and a variety of mixed media. This annual event is a "must see" for regional artists and art lovers. There is no charge for the self-guided tour, running August 17-18 from 10 am – 4 pm. For more information and a map of the studios, go to https://northwindarts.org/programs/studio-tour/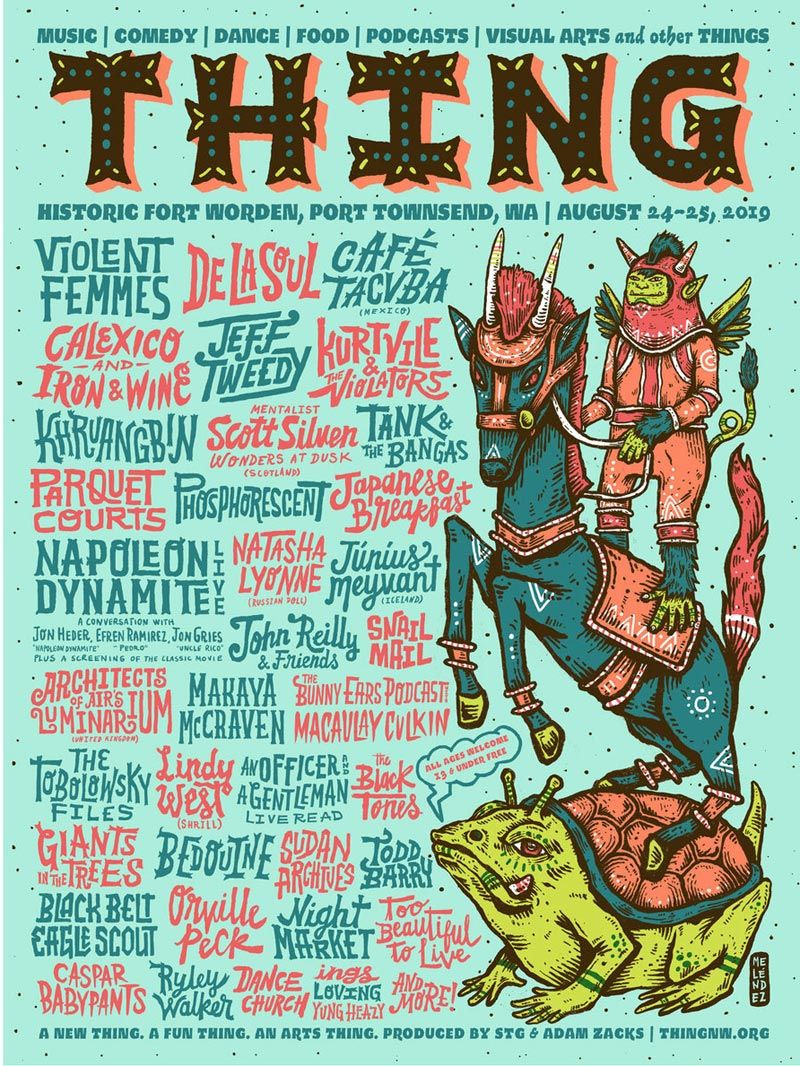 A new thing. A fun thing. An arts thing. This summer will find a fresh alternative for music and arts enthusiasts in THING, a new multidisciplinary event August 24 and 25 at Fort Worden. Produced by Seattle Theatre Group (STG) and Adam Zacks—STG's Chief Programming Office and founder of the Sasquatch! Festival—this two-day event features a unique offering of tightly curated programming including music, comedy, film, dance, food, podcasts, visual arts, and…a mentalist. Go to www.thingnw.org for tickets, schedule and program info.
Don't miss the party in August. Visit us for an amazing getaway and enjoy all things Port Townsend!
A Few Upcoming Events in September—Save the Dates!
43rd Annual Wooden Boat Festival, September 6-8
Olympic Music Festival at Fort Worden, September 1, 7 & 8
Centrum's Ukulele Festival, September 11-15
20th Annual Port Townsend Film Festival, September 20-22
.