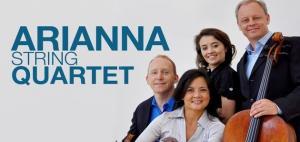 Centrum is pleased to welcome the Arianna String Quartet to the Port Townsend Chamber Music Festival on April 21, 2013 (2pm)for a spirited concert of  string quartets by Lacerda, Mozart, and Beethoven. Purchase individual concert tickets online, or call (360) 385-3102 ext. 110.
Hailed for their outstanding musicianship, the Arianna String Quartet has firmly established itself as one of America's finest chamber ensembles.
Their performances have been praised for "tonal warmth, fastidious balance…expressive vitality" (Chicago Tribune) and "emotional commitment and fluent virtuosity," (Pretoria News, South Africa). Formed in 1992, the ASQ garnered national attention by winning the Grand Prize in the Fischoff Chamber Music Competition, First Prize in both the Coleman and Carmel Chamber Music Competitions, and were Laureates in the Bordeaux International String Quartet Competition.
String Quartet No. 1
Osvaldo Lacerda (1927-2011)
Preludio e Fuga
Aria
Dansa
String Quartet in G Major, K 387
Wolfgang Amadeus Mozart (1756-1791)
Allegro vivace assai
Menuetto: Allegro
Andante cantabile
Molto allegro
Intermission
Quartet in E minor, Op. 59, No. 2
Ludwig van Beethoven (1770-1827)
Allegro
Molto Adagio
Allegretto
The Arianna Quartet has appeared throughout North America, South America, Europe and Asia, with frequent visits to Brazil and South Africa. They have collaborated with many of the world's finest musicians, including members of the Vermeer, Tokyo, Cleveland and Juilliard Quartets, and their live performances have been heard on National Public Radio's "Performance Today," and "Live from Music Mountain", which broadcasts to 125 stations in the U.S. and to 35 countries.
The Quartet conducts residencies at the Peabody Institute of Music and the Madeline Island Music Camp, and the continuation of the Arianna Chamber Music Festival, held on the campus of the University of Missouri – St. Louis, where they have been full-time faculty since 2000.
The Arianna Quartet is also Ensemble-in-Residence at the Touhill Performing Arts Center in St. Louis, where they present their own series of concerts.
Purchase Individual Concert Tickets Online, or call (360) 385-3102 ext. 110.
Arianna String Quartet
2:00pm, April 21, 2013
Joseph F. Wheeler Theater
Fort Worden State Park