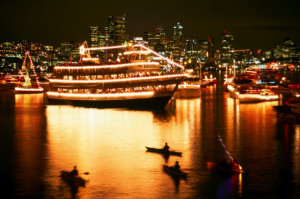 Enjoy the holiday lights in downtown Port Townsend and then take a cruise to Seattle on December 21 or 23 with Puget Sound Express to join the Christmas Ship Parade of lights.
On board the Glacier Spirit, you'll enjoy  warm soup with fresh baked bread while enjoying Christmas carols and great company. Once in Seattle, PSE joins the Parade by the waterfront soaking up the sights and sounds of the choir singing from the 'Christmas Ship.'
Reserve your seat online ($85/person)

*Please note that space is limited on these tours. A minimum passenger count is required for departure, and trips are weather dependent.