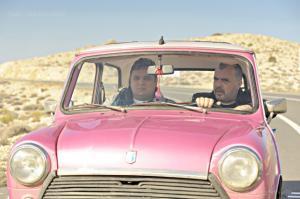 Counting down 31 ways to enjoy Port Townsend in December…
December 5: Global Lens Screening of THE PARADE
Concluding the 2013 Global Lens Film Series, The Port Townsend Film Festival, Peninsula College and Goddard College invite you to watch THE PARADE, an acclaimed Serbian film inspired by real events. Parking passes are provided and admission is free for this event that takes place on December 5th at Fort Worden's Schoolhouse, 7 pm. The film is followed by a facilitated discussion.
Filmmaker Srdjan Dragojevic ́ takes a poignantly humane comedic look at some of Belgrade's prejudices by showcasing a group of gay activists in Belgrade who strike a tense alliance with Limun, a Serbian crime boss. Limun's fiancée demands an extravagant wedding that only struggling gay theater director Mirko and his friends can provide. In exchange, macho Limun reluctantly agrees to provide security for the group's Pride parade.
It's a tall order: not only the group' s individuals are attacked on a regular basis but previous attempts to march were met with mass violence from right-wing skinheads.When Limun's gang refuses the assignment, he recruits a band of former Balkan war-buddies.
(Serbia, 2011, 115 minutes, Serbo-Croatian with subtitles in English).