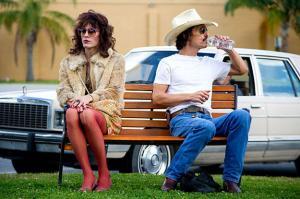 Counting down 31 fun things to do in Port Townsend in December…
December 3: First Tuesday Salon
The first Tuesday of each month, the Port Townsend Film Festival screens a movie at the Rose Theatre and brings in a special guest to talk about the issues raised in the film. On December 3, come see DALLAS BUYERS CLUB in The Starlight Room, with guest, Tom Duke LMHC, CDP.
"Both a fascinating character study and a scathing indictment of the role of the medical-pharmaceutical industry in exacerbating the AIDS crisis, the fact-based "Dallas Buyers Club" is one of the best films of the year.
Working from a screenplay by Craig Borten and Melisa Wallack, director Jean-Marc Vallée ("The Young Victoria") delivers a stylistically gritty film that might have been made during the era it depicts — if not for the fact that Hollywood was notoriously slow to acknowledge the reality of AIDS. Spurred to action by the likes of Rock Hudson, who revealed he had AIDS in 1985.
McConaughey is terrific as a man who refuses to let other people tell him how to live — or die. But arguably, Jared Leto is even more impressive, deftly sidestepping caricature to get to his character Rayon's essence.
"This is the rare film that not only entertains, but enlightens." Calvin Wilson, St. Louis Post Dispatch
For the First Tuesday Salon conversation following the film, Port Townsend Film Festival is pleased to welcome back Tom Duke counselor and activist, with his own unique perspective on the AIDS epidemic that swept thru the world and continues today.