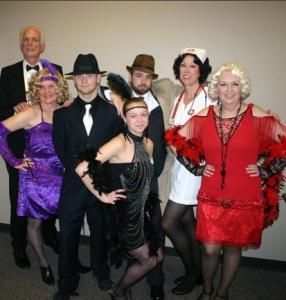 Here's one of 31 memorable ways to enjoy PT in December…
Enjoy Dinner and a Murder: "The Speakeasier." Dinner and a Murder is an (almost) annual fundraiser for Olympic Community Action Program;s RSVP program. 2013 is the 7th year of this interactive murder mystery, where you get to be the detective. You will also be served a gourmet dinner with dessert. Drinks are available.
Members of the audience are invited to solve the mystery. The first part of the show is a live performance that happens on stage while the audience spectates. After dinner is served, the audience gets a chance to question each of the suspects in turn. You then try to solve the murder based on the clues you have collected. You will not be called onto stage to perform. You only have to participate to the level you choose.
The event takes place at pm at the Oscar Erickson Building at the Jefferson County Fairgrounds. Playing December 7 too. Tickets are $55 and available at brownpapertickets.com or by calling 360.385.2571, ext.6324.