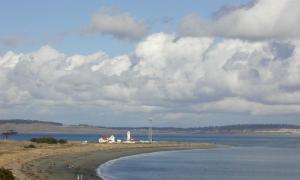 As we begin our countdown of 31 things you can do to enjoy the holidays in Port Townsend, we turn to two of everyone's favorite things: coffee and beaches!
December 1: Cafes and Bistros
Explore our delicious cafes and bistros in town and enjoy some of the best coffee drinks and teas in the region. Port Townsend has local coffee roasters and very likely more coffee and tea shops than taverns! Don't miss an opportunity to hang out in unique cafes and learn the ins and outs of coffee and tea from our knowledgeable community members.
December 2: Beaches
It may not be summer, but locals know that fall and winter are some of the most dramatic times to enjoy our town's beaches. Port Townsend is on a peninsula, so we're surrounded on three sides by water and beaches, making the area a perfect destination for beach walking. Did you know you can walk from Point Hudson to Point Wilson Lighthouse at Fort Worden State Park at low tide?
Popular beach access points include North Beach and Chetzemoka Park.