Come to Port Townsend for the largest country blues gathering in the nation! Port Townsend Acoustic Blues Festival concerts feature players and music from regions where pre-war country blues were formed — Piedmont, the Delta, Mississippi Hill Country, New Orleans, Texas and more. Immerse yourself in the African – American history and traditions from which blues has grown.
Mainstage shows at McCurdy Pavilion cap off a week-long workshop for nearly 250 passionate acoustic blues students taught by artists from across the country. Club shows and a massive Saturday mainstage performances transform Port Townsend into the summer blues getaway.
Blues Dance
Wednesday August 1, 2018, 7:30pm
McCurdy Pavilion
General Admission $20
Featuring:
G Burns Jug Band and Friends
Port Townsend Gospel Choir with Rev. John Wilkins Band
Saturday August 4, 2018, 11am
FREE
The Fort Worden Chapel Lawn
Bring your own blanket or a lawn chair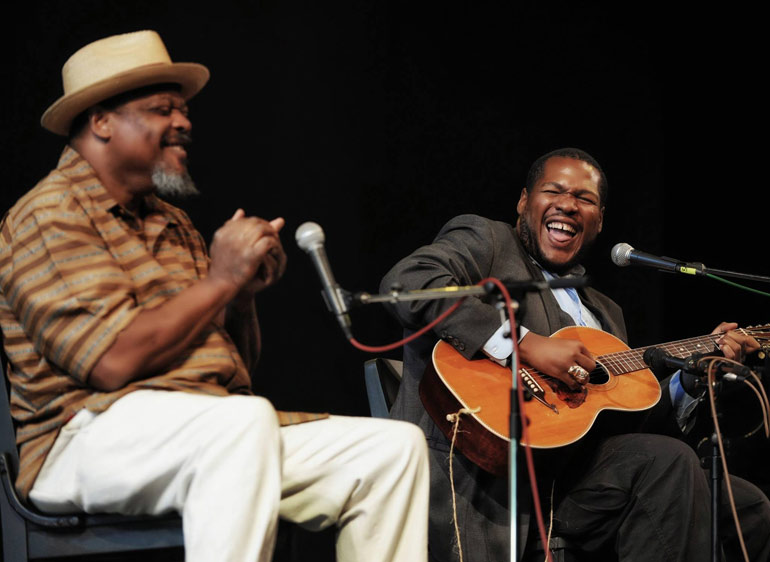 Acoustic Blues Showcase
Saturday August 4, 2018, 1:30pm
McCurdy Pavilion
Reserved Seating $48, $40, $27
Featured Performers:
Andrew Alli
Roy Book Binder
Daddy Long Legs
Del Rey
Christopher Davis-Shannon
Pat Donohue
Mary Flower
Jimmy Duck Holmes
Chaz Leary
Ethan Leinwand
Cary Morin
Brian Farrow
Craig Ventresco
Jontavious Willis
---
Friday and Saturday Night – 8pm-midnight
FORT WORDEN STATE PARK VENUES: Fort Worden Chapel, Wheler Theater, Building 204 (Up North and Up South), Rainshadow Recording Studio, Seminar Building, Schoolhouse Room D, JFK Building (subject to change)
Admission: $25 wristband – all access
Performers include: Andrew Alli, Roy Book Binder, Daddy Long Legs, Christopher Davis-Shannon, Clinton Davis, Del Rey, Pat Donohue, Brian Farrow, Jake Faulkner, Mary Flower, Ben Fox, Jimmy Duck Holmes, Chaz Leary, Corey Ledet, Ethan Leinwand, Lazy Lester, Darren Loucas, Tim McNalley, Cary Morin, Dean Mueller, Jerron Paxton, Jonathan Piper, Lauren Sheehan, Fred Sokolow, Ernie Vega, Craig Ventresco, Reverend John Wilkins, Jontavious Willis and more…
---
Port Townsend & Fort Worden
Located just 2 hours west of Seattle, Port Townsend is the perfect place to indulge your creative side. With its maritime heritage, Victorian architecture, artist spirit, and a touch of urban chic, Port Townsend is an easily accessible base camp to the Olympic Peninsula and beyond.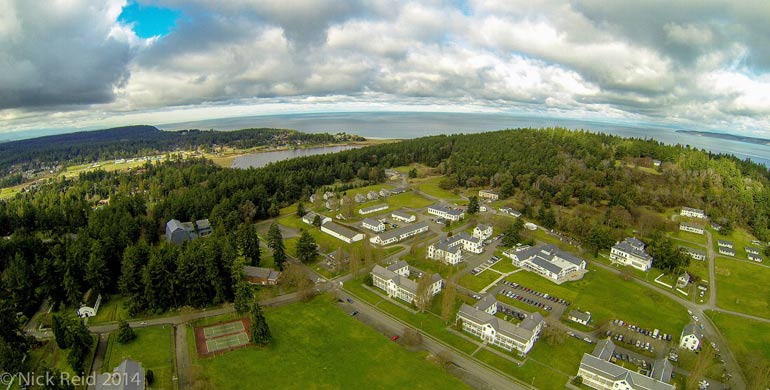 Centrum's home is at Fort Worden – the kind of destination that stays with you for a lifetime. Amidst the magnificent natural setting and the influence of its military past, Fort Worden is home to inspiration, education and personal transformation. People gather here to participate in arts and music events, woodworking classes, conferences, camping and outdoor activities, family reunions, weddings, and much more. Originally designed as a military base to protect Puget Sound, Fort Worden evolved into an iconic and cherished state park. The fort – featuring 100 historic structures – spans two miles of saltwater shoreline with views of the Olympic and Cascade Mountains, and the San Juan Islands.
Click here for detailed instructions about traveling to Seattle to Port Townsend without a car.
Ferry
Seattle to Bainbridge
Edmonds to Kingston
Mukilteo to Clinton (Whidbey Island)
Whidbey Island to Port Townsend
Airports
Sea-Tac International Airport
17801 International Blvd, Seattle, WA 98158
Shuttle information
Jefferson County International Airport
Airport Cutoff Road, Port Townsend, WA 98368
Bus/shuttle
Located less than two miles from downtown Port Townsend, Fort Worden is easily accessible for both locals and visitors.
General inquiries: info@centrum.org, (360) 385-3102 x117