There is no better place than Port Townsend to enjoy the holiday season!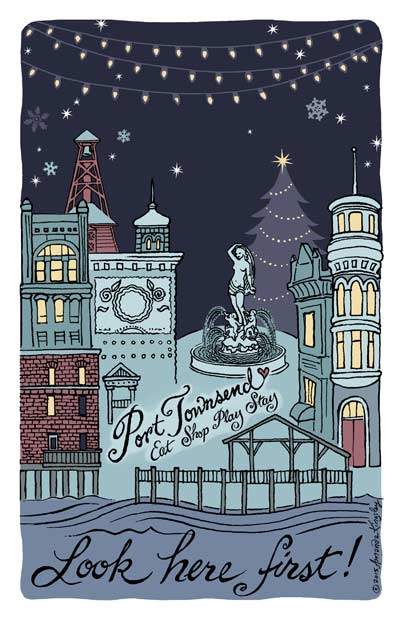 Washington's Victorian Seaport and Arts Community welcomes you in this festive season to "Look Here First" for authentic holidays experiences that can only be found in Port Townsend. Individually-owned businesses offer the personal touch and are a welcome contrast to anonymous malls. Gifts from our destination stores, Port Townsend restaurant gift certificates, movie passes, theatre tickets, and local artwork are examples of thoughtful gifts your loved ones will remember long after the holidays.
Choo-Choo Rides, Homes Tours, Open Parlors, Live Theater, Santa Visit, Caroling, Art Walk, Yuletide Events, a Gingerbread Contest – come see why visitors love our community at the end of the year!
2015 Holiday Events
November 27 Black Friday—Kick off of Main Street "Look Here First" campaign.
November 28 Main Street Small Business Saturday & Merchant Holiday Open House!
Celebrate local businesses at this nation-wide event. See more at "About Small Business Saturday" www.americanexpress.com. Caroling in the streets with the Wild Rose Chorale Uptown and Downtown from 2-4 pm, in-store treats, many shops open later til 7 pm. Have fun shopping and dining in town!
November 28 "Ring in the Holidays" Merchant Holiday Window Contest winners announced.
December 3-20 Thursdays-Sundays A Christmas Story adapted by Philip Grecian from Jean Shepherd at Key City Public Theatre.
December 5 Main Street Treelighting Celebration and Santa Visit
There's caroling in the streets with the Wild Rose Chorale from 1 to 3 pm, in-store refreshments and many shops will be open later. Come to Haller Fountain for the annual Community treelighting and Santa visit at 4:30 pm. Port Townsend school children created dozens of hand-made ornaments for the tree. Santa arrives by the Kiwanis Choo Choo Train to light the community tree. After the Treelighting, Santa visits with children.
December 5 First Saturday Art Walk hosted in galleries and stores.
Great holiday gift ideas made by local artists. Enjoy refreshments and shop for artistic gifts you won't find anywhere else.
December 12 Main Street/Kiwanis Choo Choo Rides for Families 1-4 pm; suggested donation of $5 per person benefits the arts in the schools program.
December 12 Yuletide Salon at The Cotton Building 1-3 pm, coordinated by Olympic Peninsula Steam.
Caroling, treats, seasonal music, mummers and merry-making, plus a special visit with Father Christmas! www.vicfest.org/yule
December 12 Yuletide Ball at the Chapel at Fort Worden State Park~ from 8 pm—11pm.
Big band dance music with Olympic Express Big Band, with free swing dance lessons available. Father Christmas will be on hand, along with plenty of mistletoe. Tickets $15 in advance, $20 at the door. Cash bar. Olympic Peninsula Steam www.vicfest.org/yule.
December 12 Victorian Holiday Home Tour from 1:00-5:00 p.m.
Visit Port Townsend's often photographed Victorian Homes as they dress themselves up for the holidays! Homes normally not open to the public are available for viewing during this special event. Not only will you have the opportunity to sit and enjoy a Victorian reception in the elegant parlors of these vintage homes, but you will also be invited to imbibe in delectable refreshments while visiting with the homeowners and docents, and listening to music of the season. http://www.vsa-nw.org/sample-page/events
December 19 Second Annual Port Townsend Paper Company Kraft Tree Decorating Contest display, 1-4 pm coordinated by Port Townsend Paper Corporation. Refreshments and fun!
Saturdays in December: Open Parlor Tours
Beautiful B&B's and historical hotels of Port Townsend with their halls bedecked for the holidays. Self-guided tours run 1-3pm on select Saturdays throughout the holiday season.  Enjoy seasonal music and tasty treats. Tickets are $15 and include up to four historic venues.  Details at www.vicfest.org/yule
December 19 Main Street/Kiwanis Choo Choo Rides for Families, 1-4 pm; suggested donation of $5 per person benefits the arts in the schools program.
December 26-27 The Santaland Diaries by David Sedaris at Key City Public Theatre
December 31 First Night coordinated by the Jefferson County Historical Society
Celebration (jchsmuseum.org) – Free event The Jefferson Museum of Art and History coordinates this all ages, alcohol-free event on New Year's Eve featuring live music, children's activities and the dropping of the anchor to ring in the new year.
December 31– New Year's Eve celebration at Fort Worden fortworden.org
January 1 – New Year's Day Brunch at the Fort Worden Commons fortworden.org