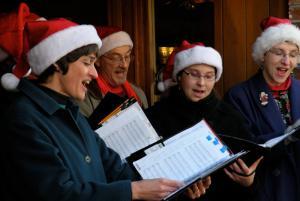 Come to Port Townsend for the Holidays! The street lamps and store windows will be decorated in the spirit of the season, festive events fill the calendar and Santa starts his world tour in Port Townsend December 7, 2013 at 4:30 pm.
November 1-December 24 "Santa Shops Here"
For every $500 spent at any of 50 participating merchants, customers get to pick a $50 Gift Certificate from our wall of gift certificates! *Proof of purchase required and only dollars spent at participating merchants qualify towards the $500. First come, first served while quantities last. Some restrictions apply.
Saturday, Dec. 7th at 4:30 pm–Port Townsend Community Tree lighting/Santa Visit 
Caroling in the streets! Santa arrives by Engine No. 3, Port Townsend's vintage white fire truck. The truck brings Santa to Haller Fountain at Washington & Taylor Streets for the Treelighting at 4:30 pm.  Caroling in the streets, shops open later, and it's First Saturday Gallery Walk. Shop, dine and stay in town.
December 14th Yule Festival–1-5 pm
Special holiday activities, caroling, refreshments and a visit with Father Christmas. Come to World's End at 1020 Water Street to join in these festivities from times gone by. Coordinated by Olympic Peninsula Steam.

Stores Open Later December 20 & 21st–Holiday Shopping Wrap Up! Hundreds of last minute gift ideas for everyone on your list! Main Street offers a "Holiday Wrap Up" –free do-it-yourself gift wrapping station.
2013 Port Townsend Ornament highlights The Centennial of the Schooner Adventuress 1913-2013. On sale for $12 at select shops.
First Night Celebration December 31–First Night is a Jefferson Museum of Art and History-sponsored family-friendly alcohol-free New Year's Eve community celebration focusing on art, culture and heritage. All activities take place in and around Port Townsend's historic City Hall between 6:00 p.m. and 9:00 p.m. on December 31.