Port Townsend's Wooden Boat Festival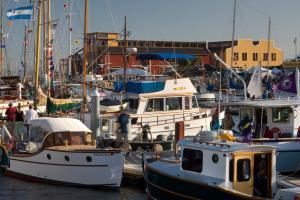 is the most education-packed and inspiring wooden boat event in the world. Featuring more than 300 wooden vessels, hundreds of indoor and outdoor presentations and demonstrations, a who's who of wooden boat experts and thousands of wooden boat enthusiasts, there's something to do, someone to meet or a boat to board at every turn.
Expanded a little each year, the Festival honors its traditions while inviting energetic debate and demonstration about the latest innovations in boatbuilding, equipment, skills and adventure.
One-Day Tickets – $15 (or $10 for seniors 65+ and teens 13-19)
Multi-Day Tickets (Fri-Sun) – $30 (or $20 for 65+ and teens 13-19)
Tickets can be purchased online or at the Main Gate on 9/7 beginning at 8:30am. Online tickets are confirmed by an e-receipt that you bring to the Main Gate upon arrival or store in your smart phone. Skip the lines and buy early!
Ticket donation covers access to all Festival boats, all daytime presentations and demonstrations, exhibitors, music performance, kids' activities and food vendors is included in the price. More than an "admission fee", this is a donation to Wooden Boat Foundation programs year round!
For the most up to date info, 'Like' the Wooden Boat Foundation Facebook page, or check in at their website leading up to the event!
Keep up with the current list of Festival Boats, the schedule of Faculty presenters, music, kids activities, sailing and racing options.