Winter Fun in Port Townsend 2017/2018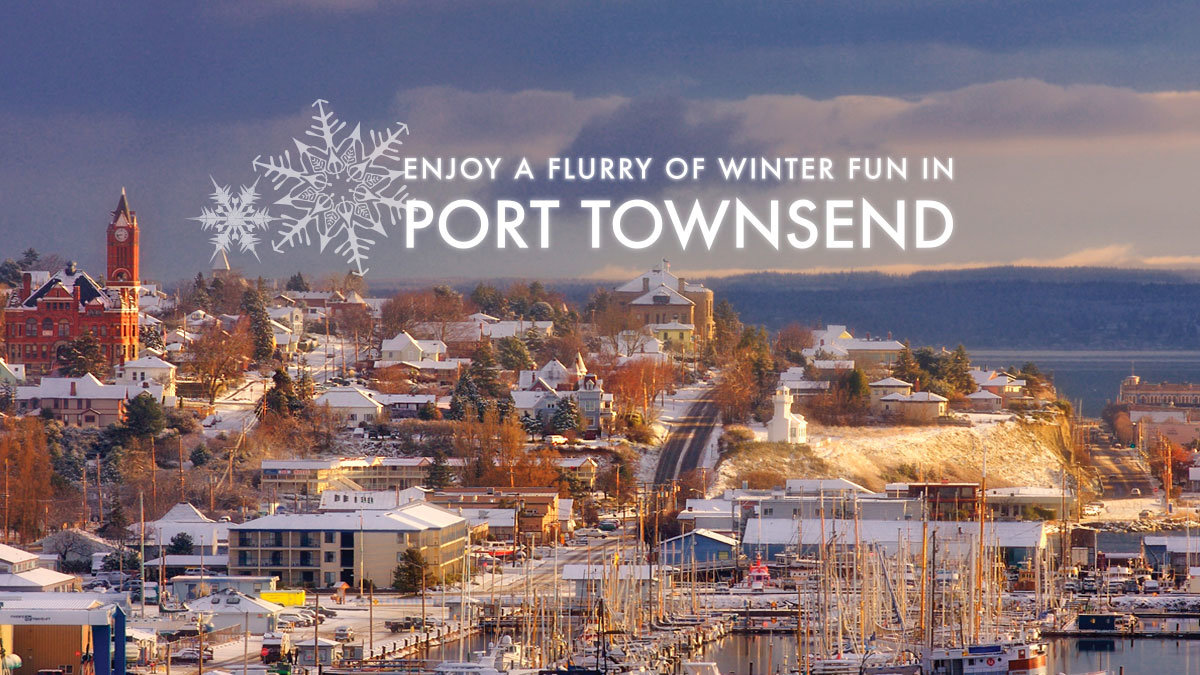 Port Townsend has loads of fun things to do in the winter, from getting outside for deep breaths of fresh crisp air to tucking into a warm shop downtown or uptown for some retail therapy. Stay in one of our many cool accommodations and enjoy the winter fare in a cozy eatery and maybe do a bit of storm watching over Port Townsend Bay. And, of course, there are a plethora of holiday happenings to bring you joy and delight! Enjoy a flurry of winter fun in Port Townsend!
Don your wellies and waterproof gear and get outside! Here are a few ideas for you.
Take a beach walk from Point Hudson to Point Wilson at mid- to low-tide.
Hike the trails at Fort Worden (check out the map in The Commons at the Fort).
Cycle the Larry Scott Memorial Trail (pick up a map at the PT Visitor Info Center)
Fascinated by Port Townsend's history? Explore a museum (or two!).
Calling all foodie fanatics! We have delicious eateries around town and at Fort Worden.
Pick up a restaurant guide at the PT Visitor Info Center.
Check out the Farmers Market on Saturdays, 10 am – 2 pm, until the last day of the season: Dec. 15  – www.jfcmarkets.org
Tour the local wineries, cideries, breweries and distilleries.
Looking for a quiet place to enjoy nature? We have beautiful parks, even without leaves on the trees.
Can't get enough art? You'll love our galleries and live performances.
Want to learn more about our local sea life? Here are some ideas.
Bird & Whale watching out of Point Hudson on Nov. 25 and Dec. 31.
Port Townsend Marine Science Center (Fort Worden) – www.ptmsc.org
Northwest Maritime Center (Downtown) – www.nwmaritime.org
Join us for our holiday happenings and festivals into the new year:
Black Friday, Nov. 24 –Let the shopping begin!
Merchants' Open House and Small Business Saturday, Nov. 25 – www.ptmainstreet.org
Sprit of the Yule, Key City Public Theatre, Nov. 30 – Dec. 23 – www.keycitypublictheatre.org
Community Treelighting and Santa Visit with caroling in the streets. Shops are open later and Art Walk is after Santa lights the tree, Dec. 2 – www.ptmainstreet.org
Choo Choo Rides throughout town, Dec. 9 and 16 – www.ptmainstreet.org
Aldrich's Gingerbread Contest Uptown, Dec. 16 – Jan. 24, 2018 – www.aldrichs.com
Victorian Open Parlor Tours and Yuletide Brass Ball, Dec. 16 – www.op-s.net
First Night Celebration Downtown with the Jefferson County Historical Society, Dec. 31 – www.jchsmuseum.org
Fort Worden's New Year's Events, Dec. 31 and Jan. 1 – www.fortworden.org
14th Annual Strange Brewfest, Jan. 26 and 27, 2018 – www.strangebrewfestpt.com